Did you forget Windows 10 login password? No worries, you can easily reset Windows 10 password without losing data. There are numerous approaches to recovering a lost windows 10 password, this may include using software to recover the password. Use your setup DVD or better still a system restore disc in the optical drive after which you can reboot your computer.
Do not be worried if you don't have an authentic Windows 10 installation disc and in no way got around to creating a system restore disc.
Additionally, if you have access to another Windows 10 computer either from a friend or neighbor then you are good to go.
You can create a machine repair disc totally free. The use of an installation or system restore media from a different PC, a friend's, or any other is okay and will not lead to copyright infringement with Microsoft. Simply ensure it suits your version of windows completely.
How to Reset Windows 10 Password
Follow these steps to reset your Windows 10 password.
Part 1: Reset Windows 10 Password with Password-Restore Disk
Creating a password restore disk might come in handy in an emergency in case you cannot get admission to your system, you must be aware that the password restore disk needs to be made earlier or before you forget your password and it best works with windows 10  personal account.
This will ensure you have access to your computer regardless of whether you forgot your password or not. It is an easy and clean way of regaining admission to your computer.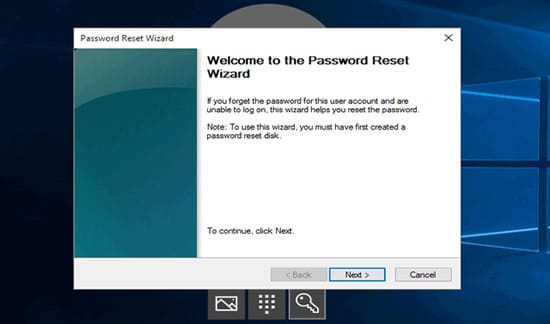 The password-restore disk only needs to be created once and it doesn't matter how many times you change your password, it's simple to create and works every time.
It's a pity that many computer users don't have password-restore disk and experience loss each time they lose their computer's password.
Part 2: Reset Windows 10 Password with iSeePassword Windows Password Recovery
Forgetting your PC's Windows 10 password is a common thing and can happen to anyone. But the question is how do you sort out this problem?
What if you don't have a pre-created password reset disk in place?
A while ago, people would have their recovery discs, and the process was quite tiring. Data would also get lost in the process.
But this will never be a problem anymore with the introduction of iSeePassword Windows Password Recovery Pro.
It is an advanced Windows 10 password reset tool that can easily reset the forgotten password to blank. The best highlight about this software is that you can reset the password without losing any data.
The process of resetting the forgotten password is very easy.
In fact, the reset tool is designed to be user-friend, and thus you can easily reset the password. You don't need much computer skills to do this.
Here are the 4 main steps that you should follow:
Step 1: Download and install iSeePassword Windows Password Recovery Pro, then run the software on any other computer that you can access as an administrator.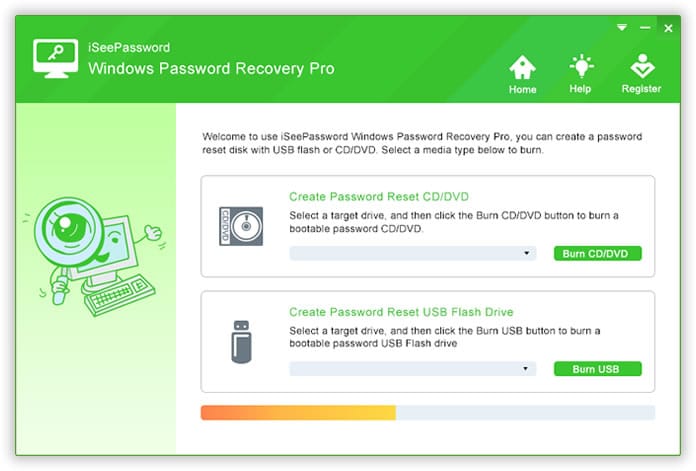 Ensure that you have chosen the media that you will use to burn the software for password resetting.
Step 2: After the installation has been successful, follow the provided software guide to burn it to a CD/USB flash drive.
Wait until a dialogue box showing "burning successful" pop up which means that the software has been burnt into the USB/CD successfully. This will enable you to get a bootable software reset tool for the next step.
Step 3: Using the bootable CD/USB drive in step 2, insert it into the locked Windows 10 computer and set it to boot from the USB drive of the CD. Once the PC boots up, the Software reset tool running on the screen will give you an option of which Windows 10 you want the password reset.
Step 4: Click on the "Reset Password" for the Windows 10. After the resetting of the password has been done successfully, click the "Reboot" button and disconnect the flash drive to restart the computer. Now, you can log onto Windows 10 without or with the new password.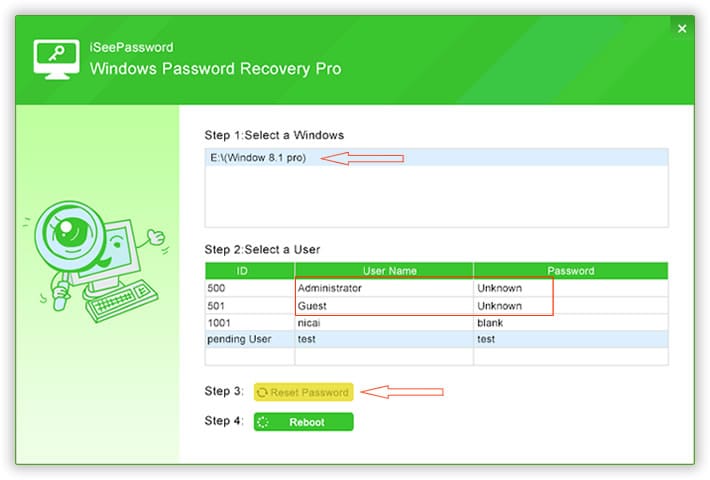 This is how easy it is to reset forgotten Windows 10 login passwords with iSeePassword Windows Password Recovery Pro.
Apart from resetting the password, the tool also comes with more advanced functions such as getting a bootable password reset tool that can be used on other locked computers.
The password reset tool can also be used to rest all Windows including Windows 10, 7, 8/8.1, XP, and Vista. With this software, you can also create new administrator accounts by logging into Windows 10.
The iSeePassword Windows Password Recovery Pro is highly recommended for its ease of use. You do not require to be a computer guru to use this software. Its process of recovering or resetting the password is very simple and straightforward.
The steps are very few to make sure that you have gotten it right. Apart from resetting the password, you will also enjoy other benefits such as acquiring a bootable password reset tool among others as mentioned above. So, the next time your Windows 10 gets locked, you know what to do and how to do it. Go for this software and it will serve you right.
Also Read –