Facebook does not allow users to delete multiple messages on Messenger at once. You have to select each message on Facebook or Messenger and delete them one by one in order to get rid of tons of messages.
Even if you are using a mobile device, then there is no such option to delete all Facebook messages at once on the Android or iOS app, and you won't be able to delete them. You can remove them one by one from the chat options.
But there was an option to delete multiple messages or all messages on the older version of Facebook. But Meta took away this feature, and users find it really annoying to go through each message and delete them.
Over time, you may have sent tons of messages or message requests to different people, but sometimes you may find it embarrassing when you look through old conversations.
You may want to delete older messages to clean your inbox. Or want to avoid any trouble with your partner who wants to check on your messages.
There may be tons of reasons to do so. Now, let's find out how you can mass delete Facebook messages.
How To Delete Multiple Facebook Messages / Conversations
To delete multiple messages, you need to log in to Facebook on the Google Chrome browser on your computer so that you can install Chrome extensions. This workaround does not work on Android or iPhone smartphones or messenger apps. However, once you remove the conversation from your account, it will also remove them from the Android/iPhone App.
You may find many Google Chrome extensions claiming to delete multiple or all Facebook messages, I have tested more than 20 such extensions, but only 4 of them worked.
1. Delete Facebook Messages Chrome Extension
This Chrome extension did a great job of removing messages; it only took a few seconds to finish the job.
1. Instal the Chrome Extension.
2. Click on the extension icon while you are logged in to Facebook.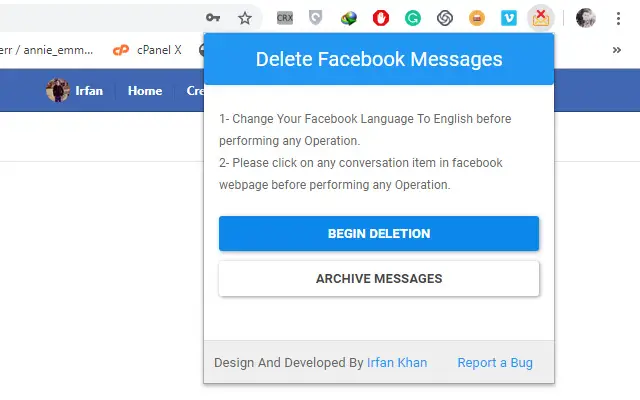 3. Click on begin deletion, and it will remove all the messages within a few clicks.
Be warned; you will lose all the messages.
2. Delete All Messages on Facebook
This  Chrome extension can help you to delete all messages in just 2 clicks.
1. Download the Chrome Extension.
2. Now, click on the extension icon at the right-top corner of the address bar, and you will get the following options.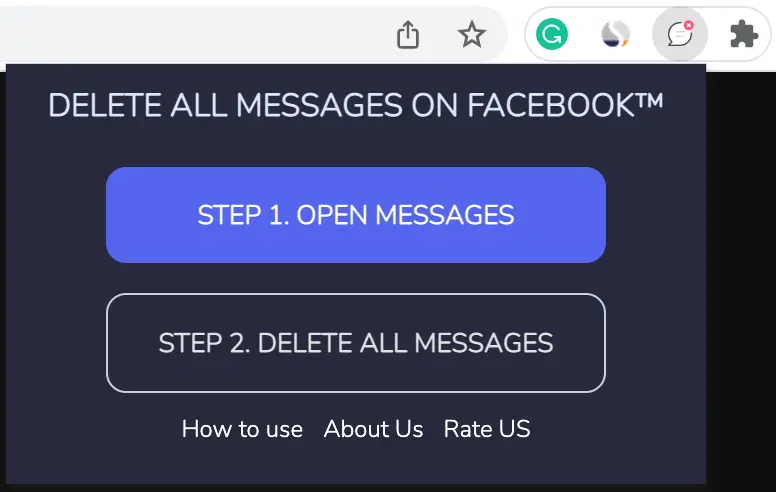 3. Click on "Open Messages," and it will redirect you to Facebook messages; ensure you are logged in.
4. You will get a warning message; click on the "Yes, Delete" option to remove all the messages.
Earlier Chrome extensions like "Delete All Messages for Facebook" used to work, but Facebook has updated its platform, and most of the extensions couldn't find a way to work as usual.
There are tons of outdated articles and YouTube videos available on the Internet, but this trick is working as of now.
3. L.O.C Aka Muti Tools For Facebook
Another extension  that does a great job
1. Open Google Chrome and log in to Facebook.
2. Download Multiple Tools For Facebook, now renamed to L.O.C, and Add it to Google Chrome.
3. Log in to Facebook and open messages, not the messenger.
Or directly open messages using this link.
4. Go to Chrome toolbars and click on the extension icon. Or if it is not available on the main toolbar, then click on the extensions option, and you will get it listed there.
5. Once you click on "Multiple tools for Facebook" or L.O.C, it will redirect you to another internal page of the extension.  First, you need to Allow the necessary permission then you will find tons of options. This tool has many other useful features for Facebook as well.
6. On the left side, Click on Tools, then "Message Downloader" from the list of options. It will fetch all of your Facebook conversations with the name of your Facebook friends, their Facebook ID, active status, and checkboxes to select the conversations.
7. Select the conversation you want to delete and then click on the "Delete" option. You can also download the conversations if you want.
It will load 10 conversations by default. If you want to delete more conversations, then select more rows or all rows.
You can also delete all Facebook messages at once by loading the All row, select all conversations, and click on delete.
This extension will help you to delete all the conversations with your Facebook friends for free. But if you want to delete messages from non-friends, then you have to buy the premium features for at least $10.
4. Messenger Message Cleaner Extension
This is another Chrome extension that works. You can download it from Google Webstore and add it to Chrome.
1. Download Messenger Message Cleaner, and it will add an icon to the Google Chrome toolbar.
2. Log in to Facebook and click on the extension's icon.
3. It will redirect you to the mobile basic version of Facebook. Now click on the icon again to get the options.
4. It will show you options to select messages and delete conversations.
You can delete a maximum of 5 conversations at once without registering for a free trial. And Free trial offers to delete 10 conversations at once, but you have to buy their premium plans to get full access.
It did a great job deleting the conversations quickly but paying for such services is not advisable. If you have little time, then you can go through each message and delete them manually.
Way to Delete Messages on Both Sides
You have options to delete Chats one by one or bulk delete them using Chrome Extensions. However, if you want to delete the messages from the other side, then Facebook allows you to "Unsend" the sent messages. It works on both web and mobile versions of Messenger.
1. Open the Chat and tap and hold the message you want to remove.  Tap on "More…" option, and you will get the below options.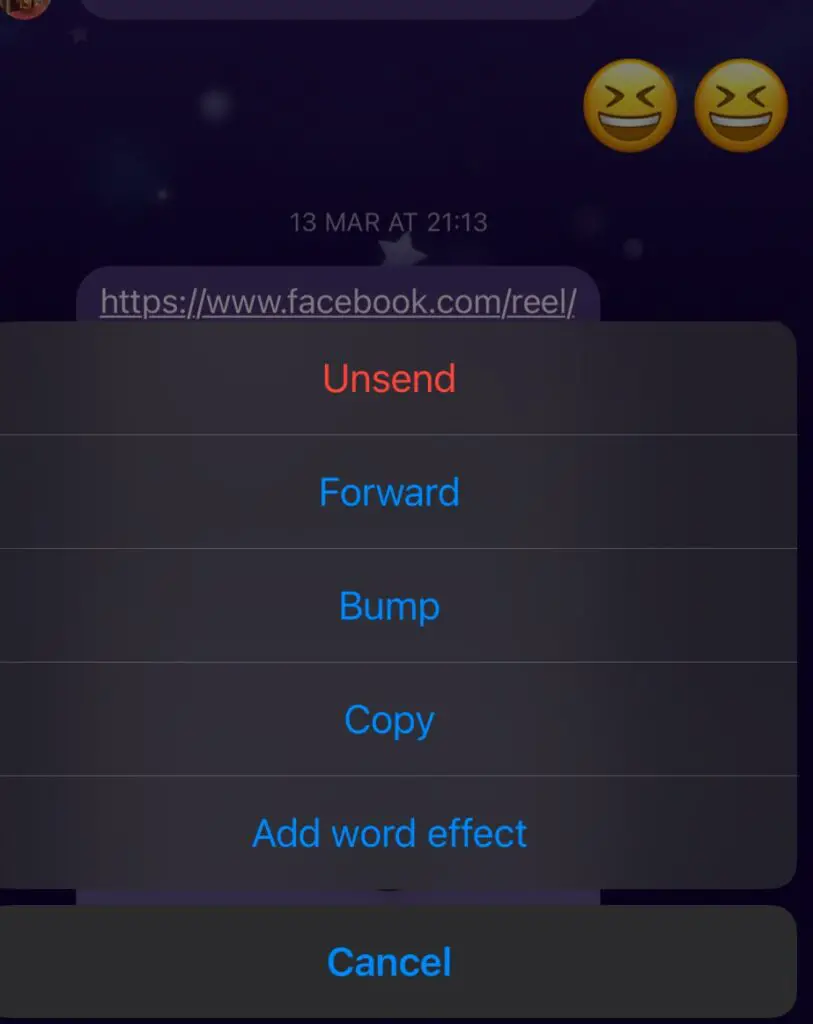 2. Tap "Unsend" and choose "Unsend for everyone." This will delete the messages from both sides.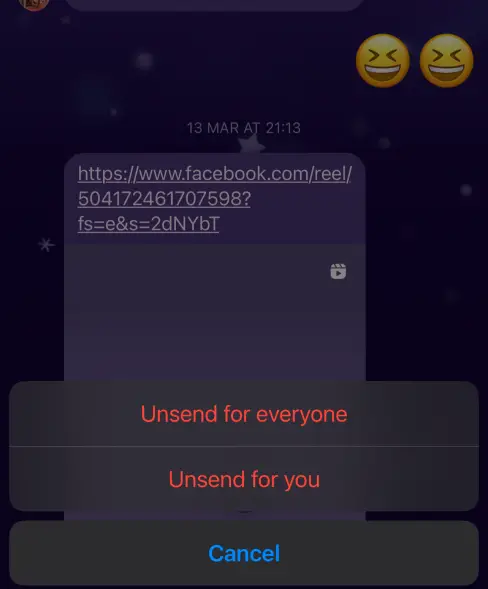 It will remove the message and show "Unsent" on the receiver's end. 
You can remove messages one by one on each Chat. If you want to delete tons of messages from other person's inbox, then there is no such option available.
Final Words
Overall, the above extensions are able to delete Facebook messages when others fail. The first and second did a great job since it allows you to delete all messages from friends. Additionally, it has many other useful features for Facebook users.
The third & fourth extensions are good if you don't mind spending some money on a one-time service. Otherwise, I won't recommend it.
If you have deleted some important messages by mistake, then you can try to restore the deleted messages.
Interesting Readings –
How do I delete all Chats on Facebook?
Facebook does not allow you to delete all chats at once. However, you can use Chrome extensions to automate the dentition process.
How do I permanently delete Facebook messages on both sides?
You can easily delete the messages from your account permanently. However, if you want to delete the message for other parties, then you can try to "Unsend" them one by one. You don't have the option to bulk Unsend the messages.
Does blocking someone on Facebook delete messages?
No, blocking someone won't delete messages from either side. However, you can still manually delete messages after you block someone.