With iPhone X, Apple introduced one of the most futuristic device unlocking methods, the Face ID. Apple users proudly flaunt their iPhone's capability of unlocking by facial recognition. However, some users face the issue when Face ID won't work in iPhone X, 11, or iPhone 12.
If you are one of the users facing Face recognition issues on your iPhone, you have landed on the right page. In this article, you will find some tried & tested ways to fix if Face ID problems with your iPhone. 
Why Face ID Won't Work?
You may face issues where the facial recognition system stops working and there can be quite a few reasons for that.
iPhone users aren't really enjoying the masks as the Face ID does not work with maks.
Face ID might not work if you have changed your appearance significantly.
If the TrueDepth camera is facing issues reading your face, Face ID might not work.
If you have installed a bad screen protector or tempered glass, it can cause issues.
Using an old iOS version can also cause issues with facial recognition.
Fix Face ID Not Working on an iPhone
There could be different reasons why face ID is not detecting your face, here are some tips to fix the problem. Apply these fixes one by one, any of these methods should work.
Make Sure that You Have Setup Face ID
In order to use Face ID, you have to set it up first. The iPhone models that support Face ID are iPhone 12 series, iPhone series, iPhone XS Max, iPhone XS, iPhone XR, iPhone X. Along with iPhones, some iPad models also support Face ID.
If you haven't already set up a Face ID on your iPhone, here is how to do it:
1: Open the Settings app on your iPhone.
2: Navigate and tap on 'Face ID & Passcode'. Enter your passcode if prompted. 
3: Tap on 'Set Up Face ID'
4: Hold your device in front of your face in good lighting conditions and tap on 'Get Started'.
5: Complete the scan and tap on 'Continue'. 
Complete the entire process by following the on-screen instructions. You might be asked to add a passcode too if you haven't added one already.
Once your Face ID is set up, you should not get any problem with facial recognition. 
Restart Your iPhone
Well, if there's anything that restart can't fix. That's is quite right actually. If you are facing any lags, or issues on your iPhone, restarting it is the best way to get rid of them. This might also fix the Face ID not working issue. All you have to do is just restart your iPhone and see if the issue is resolved or not.
Read: How To Restart / Turn Off iPhone 12 In Easy Steps
Install the Latest Updates
Using an older version of iOS can cause this issue. In that case, you are supposed to install the latest updates. Here is how to check for updates and install them:
1: Open Settings on your iPhone.
2: Navigate and tap on 'General'. 
3: Now tap on 'Software Update'.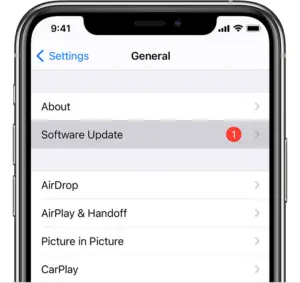 4: If there is a new update tap on 'Download and install'. 
You might get a message asking to temporarily remove apps because the software needs more space for the update, tap Continue. Don't worry, iOS or iPadOS will automatically reinstall apps that it removed. You can also do this on your own.
5: To update your iPhone immediately, tap on 'Install'.  
Complete the process of installing the software update on your iPhone. Always make sure that your iPhone is running on the latest iOS version.
Ensure Face ID Settings are Correct 
An incorrect setting can stop facial recognition to work properly. In order to fix it, make sure that your Face ID settings are correct.
Here's how to check:
1: Open Settings on your iPhone. 
2: Tap on 'Face ID & Passcode'. 
3: Here check if the Face ID is set up in the first place. 
4: If the Face ID is set up, make sure that you have turned on the toggles to use it for iPhone Unlock, iTunes & App Store, Apple Pay, and Password Autofill.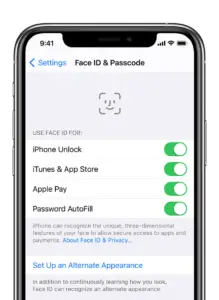 Change Your Screen Protector
The Face ID uses a number of sensors that are placed in the infamous notch of iPhones. It is good to use screen protectors from authorized manufactures. Some cheap screen guards can hinder the sensors in the front notch.
The notch contains the hardware that is a very crucial part of the Face ID. If you are having issue with Face ID in your iPhone, it is suggested to remove the screen protector and install an authentic one. 
Make Sure Nothing is Hindering the TrueDepth Camera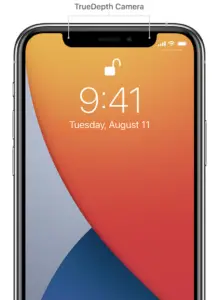 The front notch on iPhones with Face ID houses a TrueDepth Camera at the edges. Ensure there is no dirt or residue covering the TrueDepth Camera.
Clean your iPhone with an alcohol wipe, this will remove any dirt particles. Apart from the, make sure you are using a correct screen protector as it can also cause this problem.
Face the TrueDepth Camera While Using Face ID
Face ID only works in portrait mode on an iPhone. So whenever you are using Face ID to unlock your iPhone, keep your iPhone facing towards you in portrait orientation. Ideally, keep your phone between 10-20 inches from your face.
Do Not Cover Your Face
With the whole COVID-19 pandemic, people are forced to wear masks. This hasn't really turned out very well for Face ID as it can't read people's faces with masks. If you wear a mask or cover your face with sunglasses or something else, then Face ID may not work.
Face ID works with most of the sunglasses. However, if they block infrared light, then Face ID might give you some problems.
So just make sure that you show your complete face to your iPhone when using Face ID. Avoid wearing a mask and sunglasses that block infrared light.
Add an Alternate Appearance
We as human beings change a lot over time in terms of physical and facial features. Any significant change in your facial features that aren't registered on the Face ID can cause some issues. In that case, you can add an alternate appearance. Here is how:
1: Open the Settings app on iPhone.
2: Navigate and tap on 'Face ID & Passcode'. Enter your passcode if prompted. 
3: Tap on 'Set Up an Alternate Appearance'.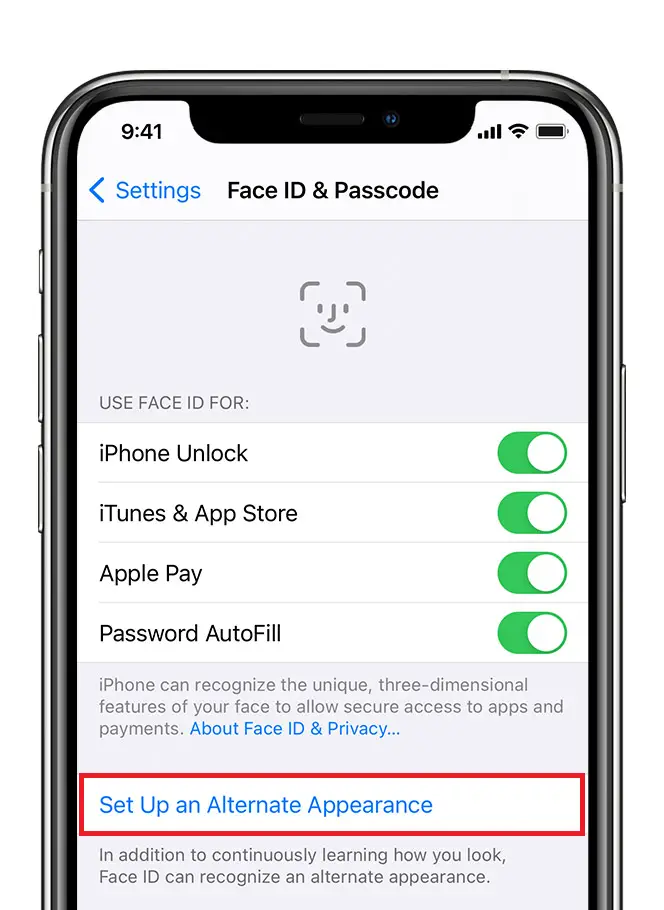 Complete the process of setting up another Face ID. 
Reset Your Face ID Completely
If the above method isn't working for you, you can just completely remove all the previous Face ID data and add a new one.
Here is how:
1: Open Settings.
2: Navigate and tap on 'Face ID & Passcode'. Enter your passcode if prompted.
3: Here, tap on 'Reset Face ID'. 
4: After that, tap on 'Set Up Face ID'. 
Follow all the on-screen instructions and set up your Face ID.
Reach Out to Apple Customer Support
If none of the above methods are working for you and you can't set up Face ID then the correct choice would be to contact Apple Customer support. There might be some hardware problem. Apple Customer Care will take good care of your device and fix the problem for you. 
Final words- 
iPhone's Face ID may stop working due to numerous reasons, follow the given instructions, if it is not a harware problem then any of the above method should work for you. In case of any difficulty, feel free to reach out to us. 
Also, Read: