Apple launched AirPods in 2016 and they are still one of the best TWS earphones out there. With a lot of cool features and seamless connectivity with Apple devices, it is a go-to choice for iPhone, iPad, and Mac users. They work great, however, sometimes AirPods keep disconnecting from the iPhone, Mac, or Android.
In this article, you will find ways to fix if you are facing connectivity problems with your AirPods. You can apply these fixes and resolve the issue if your AirPods are getting disconnected often.
Why AirPods are disconnecting frequently?
Apple is known for providing seamless integration across all of its devices. However, you might face issues with your product, here are some of the possible reasons.
The battery level on your AirPods is too low. 
Something causing a hindrance between your device and AirPods. As a result, the connection is disrupted. 
Too many accessories connected to your iPhone, Mac, or iPad at the same time alongside AirPods.
Accumulation of dirt on your AirPods over time can also cause connectivity issues. 
Some hardware issue with your AirPods. 
Ways To Fix AirPods Connectivity Issue With iPhone/iPad/Mac 
There could be different reasons behind the problem, you can try these tips and any of them should fix the issue. It also depends on the Bluetooth range, ensure you are not too far from the device.
Check the Battery Levels on Your AirPods
In case your AirPods are having very low battery levels, you can face this connectivity issue. The simple method is to measure battery levels on your AirPods. To do that:
Put both of your AirPods in the charging case. 
Now bring it near your iPhone. 
Open the lid of the case. 
You will now see the charging percentage left of both your AirPods and the charging case.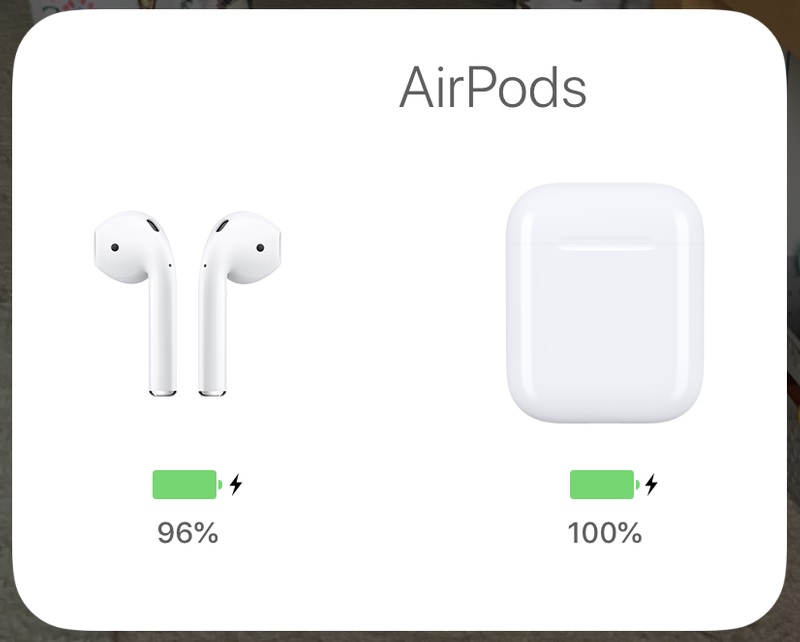 If the battery levels are low, it would be great if you let them charge for a while, and then you will be able to use them.
Restart Your iPhone 
Well, if there's anything that restart can't fix. That's is quite right actually. If you are facing any lags, or issues on your iPhone, restarting it is the best way to get rid of them. This might also fix the problems with AirPods. All you have to do is restart your iPhone and see if the issue is resolved or not.  
Read: How To Restart / Turn Off iPhone 12 In Easy Steps
Reconnect Your AirPods
This is one of those classic tricks that work with all Bluetooth accessories. Simply disconnect your AirPods and then reconnect them. Here is how you can unpair AirPods and then reconnect them like completely new ones:
Take your AirPods and put them in the charging case. 
Close the lid and wait for about 30 seconds. This will turn off the AirPods.
Now open the lid.
On the back of the case, you will see a setup button. 
You have to press and hold that button until the light flashes amber and then white.
Doing this will unpair your AirPods from all the devices you have connected previously. 
Now you are all good to connect your AirPods again. 
Just open the lid of the charging case, bring it near your iPhone, iPad, or Mac and you will see the option to connect.
This is an old trick from the books and works every time. So if your AirPods keep disconnecting use this method. If it still doesn't work out for you, follow the next method. 
Clean Your AirPods
I have seen a lot of videos on Facebook and Instagram Reels showing how much dirt accumulates on AirPods over a long period of time. This does not only disrupts the audio quality but can also cause connectivity problems. 
What you would want to do is, clean your AirPods at regular intervals. You can use a small pointy tool for removing the dirt. Make sure to be very gentle and do not damage any internals.
Check Your Bluetooth 
AirPods connect over Bluetooth so the very first thing you have to do is make sure it's on. On your iPhone, you can easily turn on your Bluetooth from the Control Center. 
Alternatively, 
Open 'Settings'. 
Navigate and tap on 'Bluetooth'. 
Check the toggle, it should be on and green in color.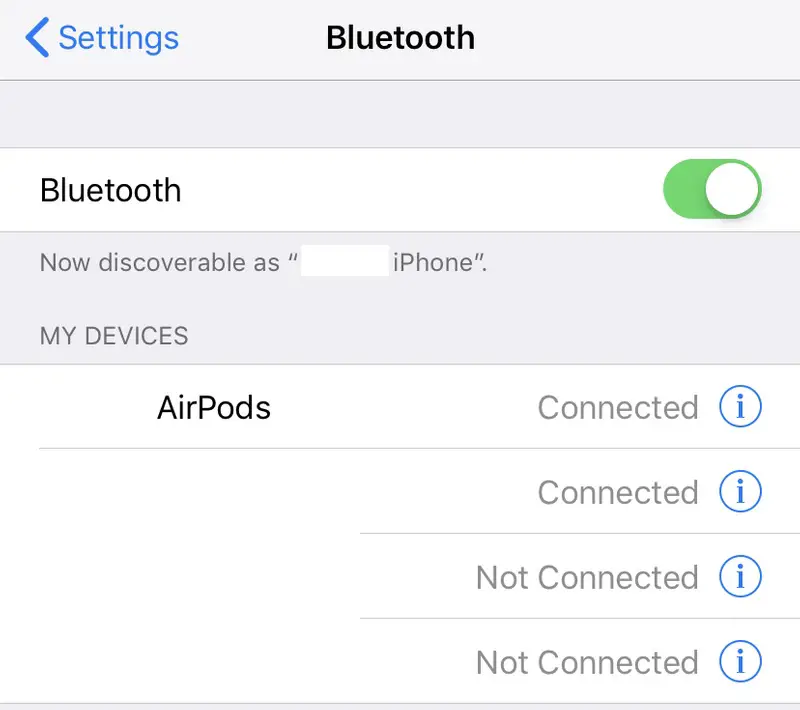 If the Bluetooth is on already, you have to turn it OFF and then turn it ON again. This will most probably fix the issue for you.
Try Turning Off WiFi
Some of the users have suggested that merely turning OFF their WiFi has fixed the AirPods issue for them. 
I suggest that you can try doing the same as well as there is no harm. You can simply turn off the WiFi from the Control Center on your iPhone. 
Disconnect All The Other Accessories From Your iPhone
If you are one of those people who uses a lot of accessories like the Apple Watch, AirPods, etc. You can simply try disconnecting all the other accessories from your iPhone except for the AirPods. Here is how:
Open 'Settings'. 
Navigate and tap on 'Bluetooth'. 
You will see the list of connected accessories by navigating down. 
Tap on the 'i' button next to the other accessories. 
Then tap on 'Forget this Device'. 
Disconnect all the other accessories and then check if the issue is gone for you or not. 
Check for WiFi and Bluetooth Interferences 
Sometimes when you go away from the proximity range of your AirPods, you might face issues. An object can cause a hindrance to your device's Bluetooth signal. 
The objects could be anything like a microwave, fluorescent lights, thick walls, something metallic, etc.
If you are at long range and facing connection problems, try moving closer to your iPhone/iPad/Mac. Lookout for any objects causing interferences and move them to some other place. 
Ensure The Audio Output Device is AirPods
If you select different audio outputs while listening to music or calls other than AirPods, you will face this issue. Make sure that the audio output is your AirPods. 
When you are listening to music on an App, simply tap on the AirPlay icon just below the audio track. 
While taking calls, you can select AirPods from the audio options.
Turn Off Automatic Ear Detection
Automatic Ear Detection is a great feature that comes with AirPods. However, some users have reported that turning off the feature has helped them to fix connectivity issues on AirPods. 
Open 'Settings'. 
Navigate and tap on 'Bluetooth'. 
You will see the list of connected accessories by navigating down. 
Tap on the 'i' button next to your AirPods. 
Now use the toggle to turn off the 'Automatic Ear Detection' option.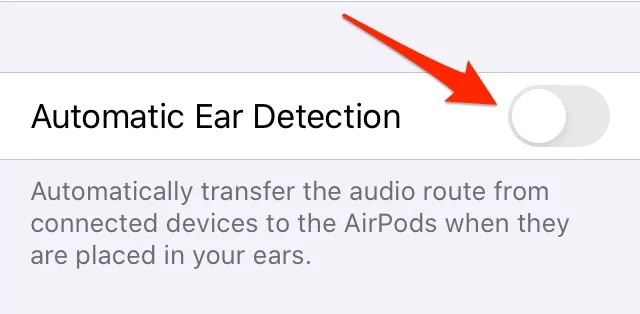 That's it and this shall fix the issue for you. 
Try Using Just One AirPods 
Some users suggested that using just one AirPods at a time fixes the AirPods disconnection problems. To use one AirPod at a time all you have to do is put the other one in the case and close the lid.
Additionally, you can use both of the AirPods but use only one for the microphone. Here is how:
Open 'Settings'. 
Navigate and tap on 'Bluetooth'. 
You will see the list of connected accessories by navigating down. 
Tap on the 'i' button next to your AirPods. 
Here, Tap on 'Microphone'. 
By default, both of the Airpods are available for the microphone. You can select the left or right from here. 
Fix When AirPods Keep Disconnecting From Mac
If you are facing the same problem with your Mac then here is a fix you can try:
Open your Mac and head to 'System Preferences'. 
Navigate and click on 'Sound'. 
Click on 'Output' and select your AirPods. 
Repeat this for 'Input' as well.
Connect to Apple Support
If none of the above methods are fixing the issue for you, then there is the last thing you can try. Take your AirPods, try connecting them to your friend's iPhone, Android smartphone, or another device. 
If they work fine with other iPhones/iPad/Mac then there might be something wrong with your device. If not, then there could be a hardware problem with your AirPods. 
In either of the case, you should reach out to Apple's customer support. If your AirPods are in the warranty period, you can get them repaired or replaced. 
Verdict 
Apple's AirPods might disconnect frequently with your iPhone/Mac/iPad or Android smartphones. You can apply the above fixes with AirPods. In case you face any problems, feel free to comment below. 
Also, Read: