Seems like evil hackers are trying to cash out the pandemic Coronavirus to the core. There are tons of misleading information being shared on social media and other online platforms.
Google search is seeing a spike for the term like antivirus for coronavirus. Coronavirus (COVID1 9) fear is being used to spread malware to user's computers. There are reports of ransomware and trojan attacks on the name of coronavirus.
Hackers are spreading safety and precautions information via malicious email attachments, audios, and videos. This attachment contains PDF files and other related documents with malware attached to it.
Apart from malware, tech support scammers are trying their luck as well. These scammers are calling people and telling users that their computer is affected by Coronavirus malware and you need their support to fix and stop it from spreading from your computer to another.
Scammers are threatening and demanding money from the people who have little to no knowledge about computers.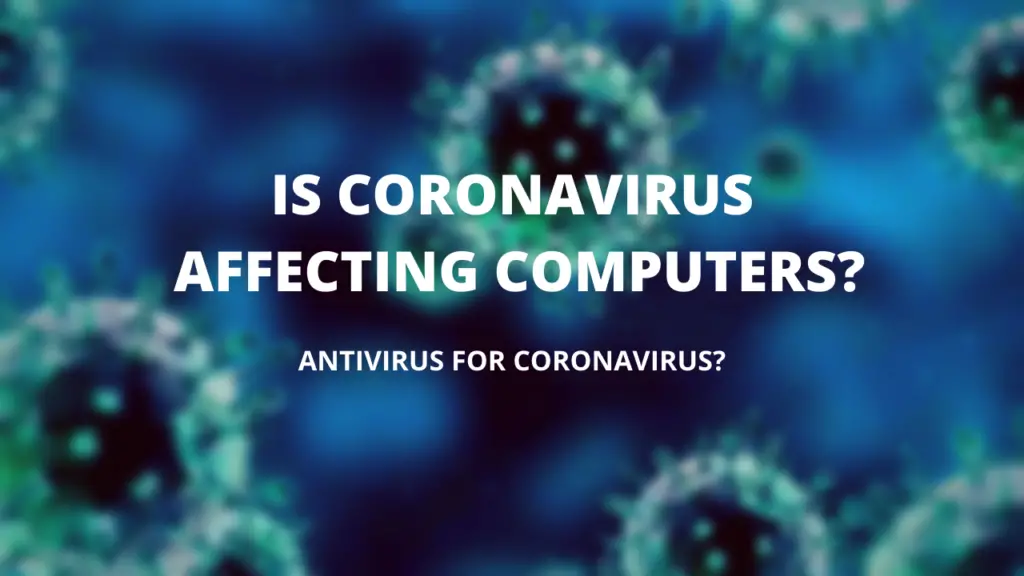 Is Coronavirus Affecting PCs?
No, there is no report of any malicious software, code or any type of malware named Corona Virus for computers. The pandemic virus is a community disease which is affecting humans in most cases and spreading from one person to another.
There are misleading information being spread related to coronavirus which contains a different type of malware that can harm your computer. Since coronavirus is a debated topic across all communication channels, cybercriminals are using it as a bait.
People are concerned about their health, fake documents, and information that are said to educate people about coronavirus is spreading malware. And the number is expected to grow.
Do you Need Special Antivirus for Coronavirus on Your Computer?
Since there is no such virus reported for computers you don't need additional or special antivirus on your computer. However, the new type of ransomware, trojan, and virus being injected through email attachments, and documents you need to update your existing antivirus.
As reported by Kaspersky there are new variants of malware as listed below.
Worm.VBS.Dinihou.r
Worm.Python.Agent.c
UDS: DangerousObject.Multi.Generic
Trojan.WinLNK.Agent.gg
Trojan.WinLNK.Agent.ew
HEUR: Trojan.WinLNK.Agent.gen
HEUR: Trojan.PDF.Badur.b
keeping a reliable antivirus with the latest updates is enough to fight back this malware.
Tips To Avoid Coronavirus Related Malware
The tech support scammers are also trying to scam peoples by saying "Your computer is affected by coronavirus" and you would need their antivirus. They may pretend a technical support executive from Microsoft and other big tech companies.
First of all, do not believe anyone stating your computer is affected by such virus, do not respond to their calls, emails or messages.
Do not click any links from a suspicious email.
Avoid opening attachments/links which offer exclusive contents related to coronavirus.
Check the file extension of downloaded files from an email attachment.
Do not install any EXE files coming from an email attachment.
Avoid clicking Ads that offer such antivirus.
Get coronavirus related information from trusted sources like WHO and news websites.
Overall, there is no such malware has been reported but the fake documents are spreading malware by taking advantage of rumors and panic among people. Keep your computer/Existing Antivirus updated with the latest updates to avoid any such malware.
Also, do not share your laptop with other people, physically clean your keyboard/mouse and gadgets with good sanitizer to avoid the spread of actual coronavirus.
Recommended Reading