In this article, you will read a detailed tutorial on how to install Windows 10 using USB Flash Drive and DVD on your PC or laptop along with suitable screenshots which will make it easier to install Windows 10.
The process of installing Windows 10 using DVD and USB is very similar. The only reason why users prefer to install Windows 10 using USB drive in comparison of traditional DVD method is speed.
In case, you have never done this before, then you can follow the instructions in upcoming lines to install Windows 10.
Things to keep in Mind
If you're installing Windows 10 for the first time, then it is highly recommended to check whether your computer or laptop compatible with the operating system or not. Like optimum disk space and RAM.
Create a backup of all your personal data which is stored in the C Drive because during the installing of Windows 10, you will lose all the data lying in the C Drive.
Requirement
Steps to Install Windows 10
1. Insert bootable Windows 10 DVD or USB Drive and restart your computer.
2. If your DVD or USB is bootable, then your computer will automatically boot from bootable Windows 10 USB or DVD.
In case, it is not a bootable installation media, then you need to visit BIOS and their make appropriate changes to boot from USB or DVD.
Alternatively, When you see the black screen after reboot, press ESC or F12 key for bringing boot selection menu. Boot key varies from ESC to F1, F2, F8, F10, F11, F12 and Del key and depends on PC/Motherboard manufacturers.
Once you get the boot menu, select the installation media drive and hit Enter.
3. Once your system successfully boots from your desired Windows 10 installation media, you will see different options and you need to select according to your requirements
Language to install
Time and Currency Format
Keyboard or Input method
After selecting all the details, click on the "Next" button.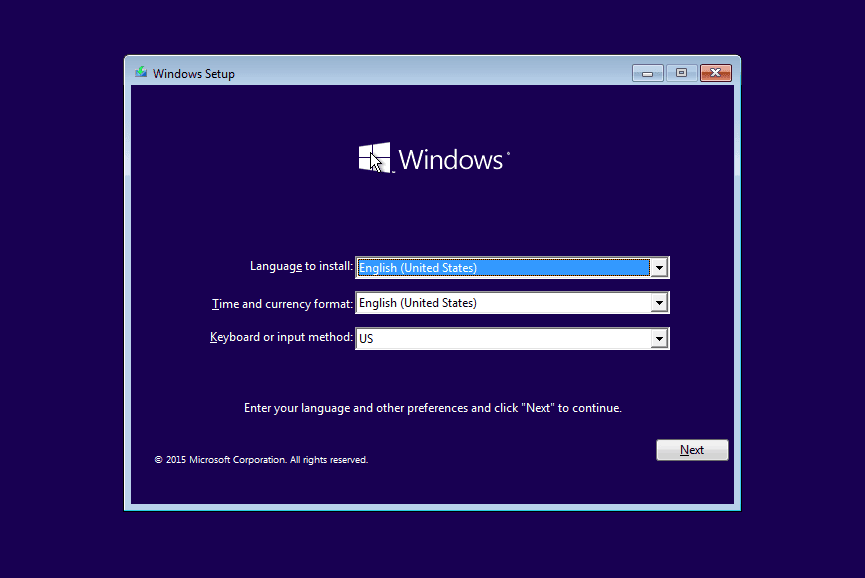 4. In the next window, you will see a blue color window with a button labeled as "Install Now". You need to click on it to continue the setup.
5. In this window, you will be asked to enter the 25 character product key in the space provided and then click on the Next button.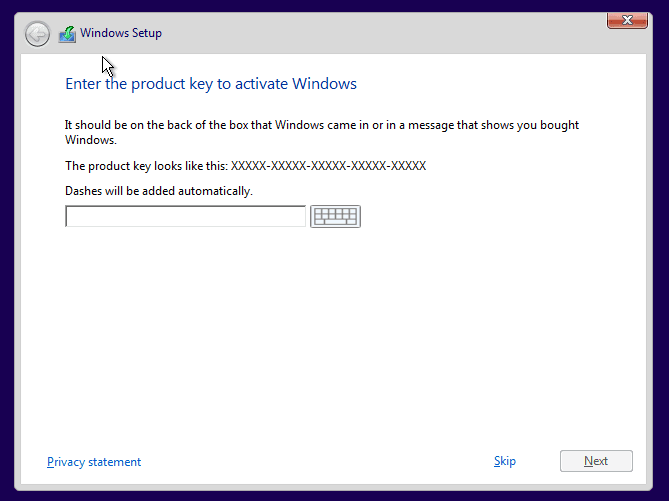 If you don't have a product key for the moment, then you can also click on Skip button and enter the product key later.
Note: In above step, if you enter the product key, then you will not see the additional window where you can select the edition which you want to install on your computer.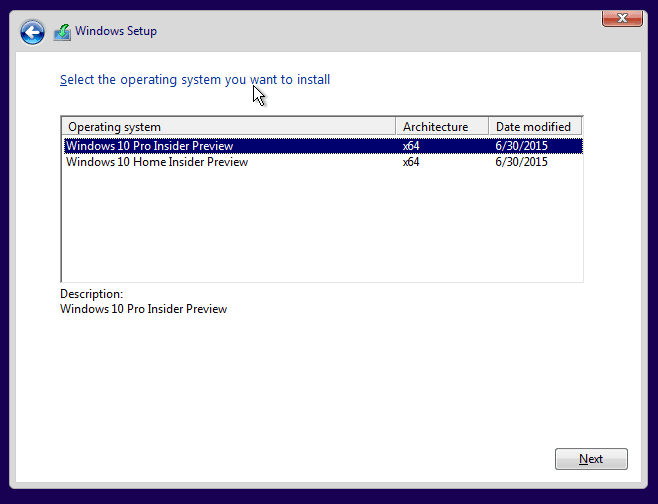 6. Now you will see the license agreement window, if you want, you can read all the terms and conditions, check the option labeled as "I accept the license terms" and hit the "Next" button.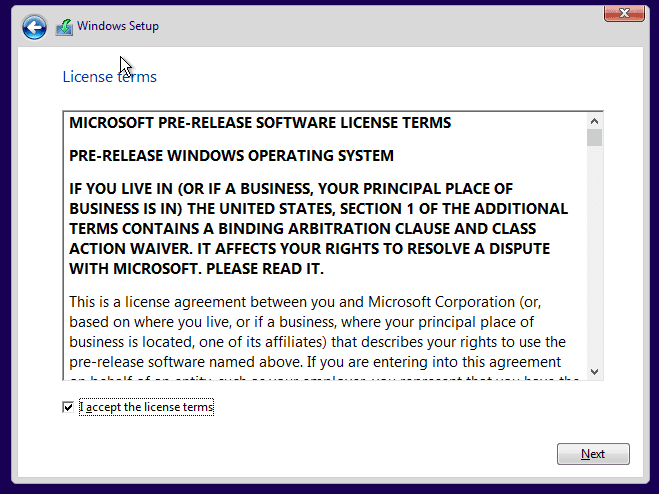 7. In the next window, you will see two different options:
Upgrade: Install Windows and keep files, settings, and applications
Custom: Install Windows Only (Advanced)
To perform a clean installation of Windows 10, you need to click on the second option i.e. Custom: Install Windows Only (Advanced).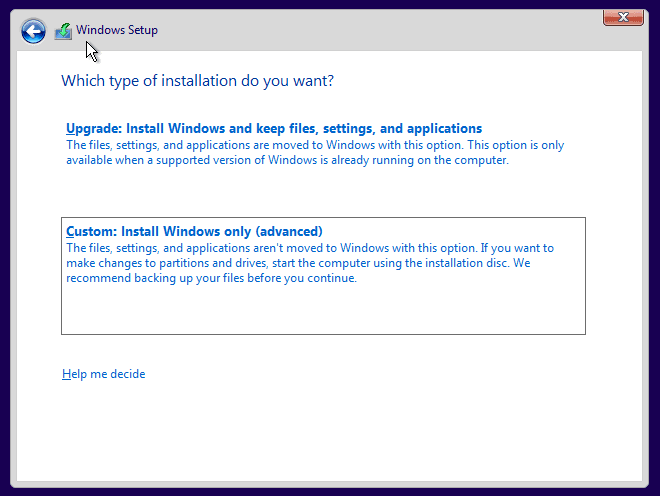 8. In the next windows, you need to choose the drive on which you want to install the copy of Windows 10. If the drive already running a copy of Windows and you want to remove it, then you need to format the system drive where the window is already installed. Of course, this will free up space drive space.
To format the system drive, you need to select the drive and click on the "format" option at the bottom of the window.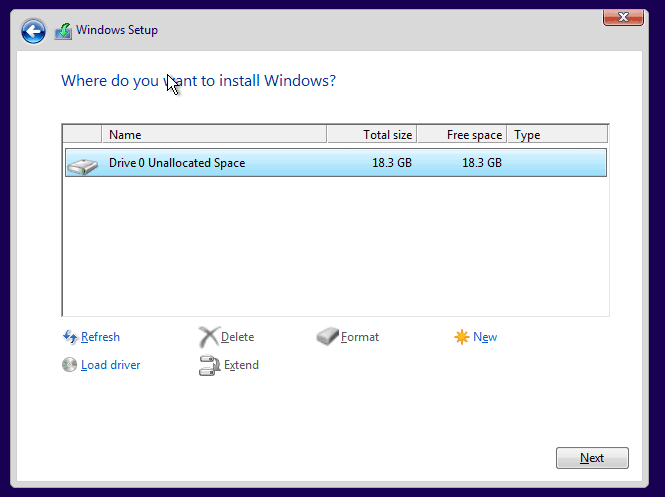 In case, you have installed the new SSD (Solid State Drive) and Hard Drive and you have not created any partition yet, then you will see unallocated space depending on the size on the drive.
To create a partition, you need to select the drive and click on "New" button. Make sure to allocate a minimum of 20 GB or you can create a partition of more size depending on the space on your hard drive. Click "Apply" to complete the process.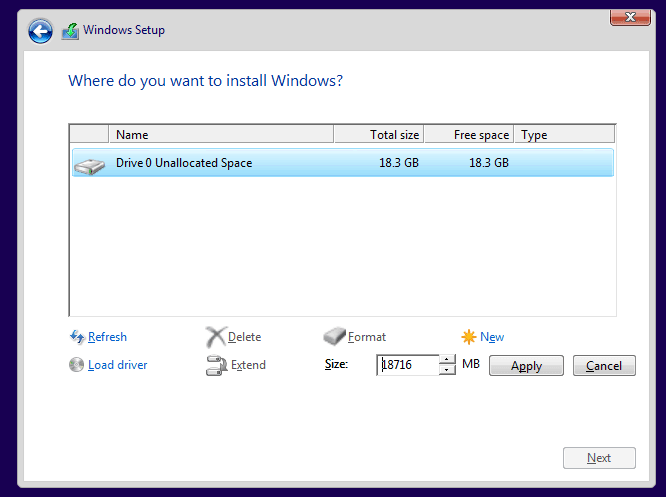 The system will additionally create a partition with name "System Reserved" to ensure that system work fine. The size of this partition is around 100MB in most of the cases.
Note: After formatting the drive, you will lose all the data on the C drive and settings which include installed apps, games, and any personal data lying on the desktop, Music, Video, Pictures and related folders.
9. Select the drive where you want to install the copy of Windows 10 and click on the "Next" button.
At this point, the installation of Windows will start. It will take around 20-25 minutes to complete the installation process.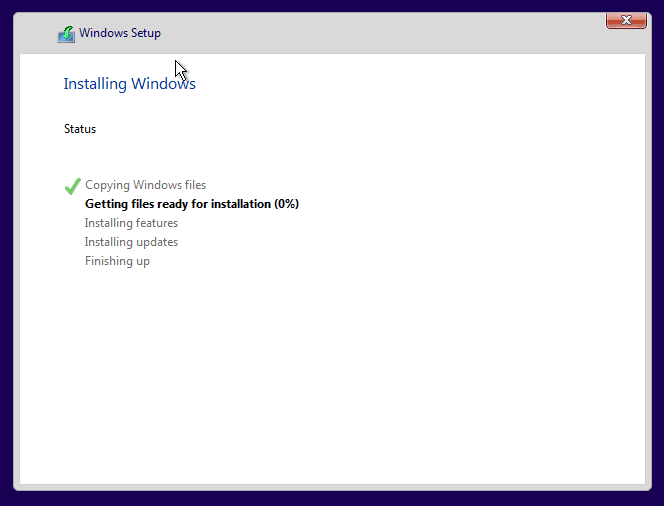 During the installation, your system may reboot two or three times.
Note: At the time or reboot, make sure to unplug the USB drive or DVD drive otherwise it will load the complete setup again. Or if your Flash drive is bootable then don't press Any key on your keyboard.
10. Once the installation is completed. You will see the blue color screen.
Here you can click on "Use Custom Settings" button if you want to go with default settings. You can also click on "Customize" button if you want to customize settings.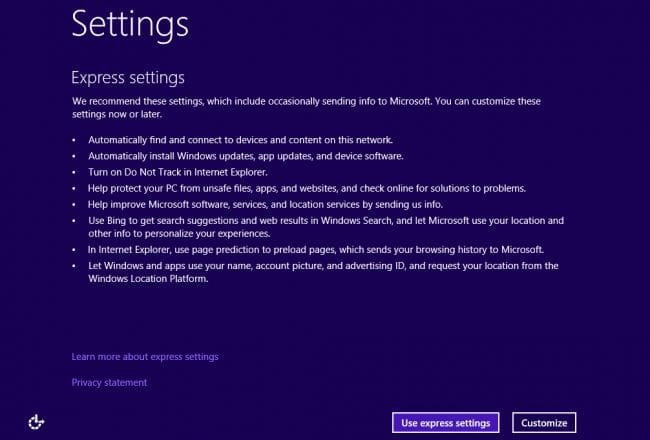 Keep following the instruction as mentioned on the screen and in few seconds Windows 10 home screen will appear.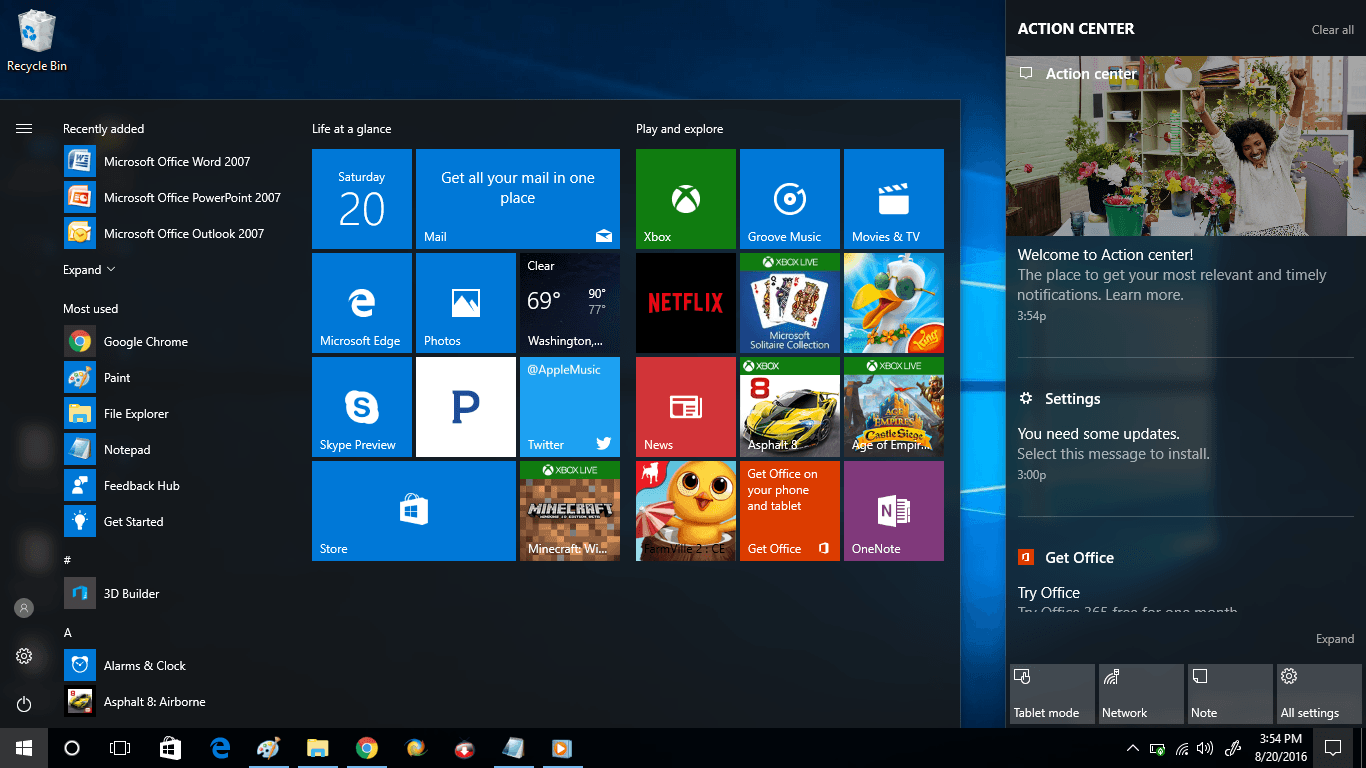 That's it! This is how you can install Windows 10 using USB or DVD Drive
If you have not entered the 25 character windows key above,
then go to settings -> Update & security -> Activation. Here you need to enter the key to activate the windows.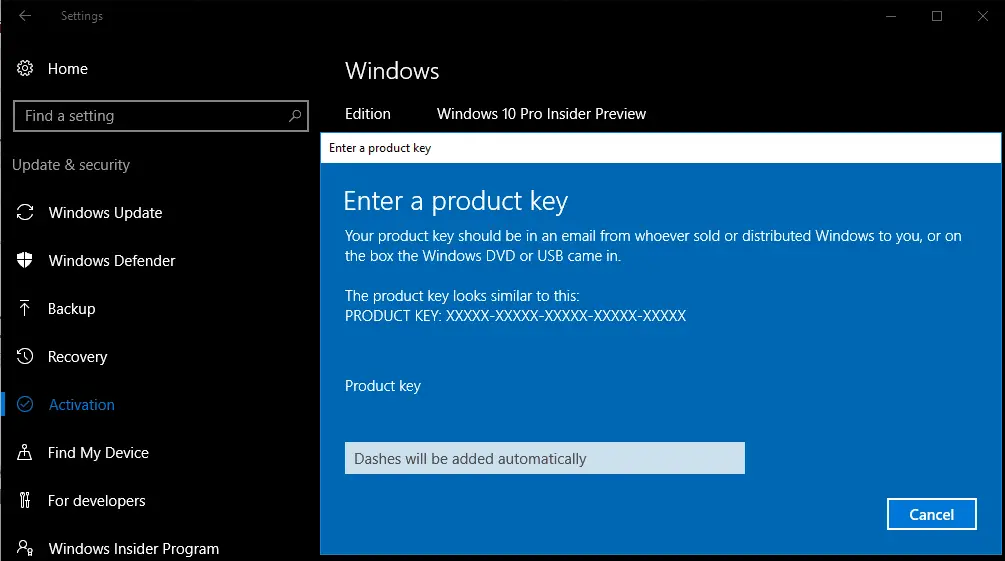 During the process, if you face any issue let us know in the comments. We would love to assist you!