Windows movie maker has stopped working is a common error when you edit or render a video on Moviemaker. In this article, we will find the reason behind this error and different methods to fix it.
Movie Maker is an inbuilt tool to create short movies, slideshows, and simple videos without any advanced editing tool. It is like first teenage love for movie editing and creating slide shows and movies.
It is a simple lightweight and easy to use video editor by Windows 7/8/8.1. The recent version of the moviemaker may show an error while you open it the error says" Windows movie maker has stopped working".
After that, you need to close the program and you won't be able to edit videos. There are different reasons that may cause this error. A malware, conflicting program, software compatibility issue, and corrupt system files.
You will get a message like this on Windows 7 or Windows 8/8.1.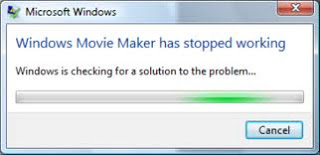 How to Fix Movie Maker Has Stopped Working Issue
Windows movie maker has been discontinued in 2014 after the major release of Windows 8.1 and Windows 10. It has been replaced by Movie Maker 10 in the recent version of Windows.
But the people who love Windows 7 don't want to upgrade to Windows 10. Millions of people are still using Windows 7 even after the support and updates have ended.
And movie maker is an awesome tool to trim, merge, adding effects and music to your videos and slideshow. If you are still using it and getting the error of movie maker stopped all of sudden then here are some working fixes you can apply.
1. Locate the shortcut icon of Windows movie maker on your desktop.
2. Right-click on the icon and select "Properties".
3. Select the "Compatibility" tab on the window.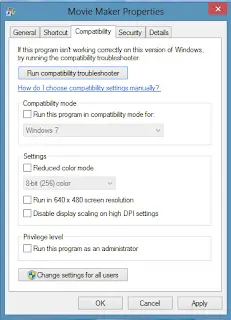 4. Check that box " Run this program in compatibility mode for".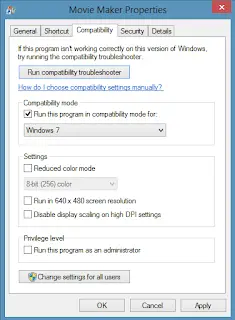 5. The drop-down menu will activate itself.
a). From there select Windows 7 if you are using Windows 8/8.1
b). If you are using Windows 7 then select Windows Vista ( Service pack 1 or 2).
c). On Windows Vista then, Windows XP ( Service Pack 1, 2, or 3).
You need to lower down the Windows version for the movie maker. After that click on "Apply" and then "OK" to save the changes. You may need to restart your PC.
Watch The Video Tutorial
Note: If the Windows movie maker shortcut is not available on your desktop then browse the Windows directories to find movie maker and create a shortcut on the desktop.
The installation path for Windows movie maker is-
C:\Program Files (x86)\Windows Live\Photo Gallery\ inside this folder you will find MovieMaker.exe.
Right-click on MovieMaker.exe and create a shortcut on the desktop. After that perform the above steps to fix the error.
2. Malware Scan To Fix Movie Maker Error
Changing the compatibility works in most cases. If this doesn't work for you anyhow and still getting the same error or similar error like "A problem caused the program to stop working correctly" on the movie maker then you need to check your Windows PC for possible malware.
There are different types of malware that can stop movie maker to work properly. Even if you have an antivirus installed there is malware that can skip the antivirus.
In this case, you need a second opinion on the existing antivirus. Hitman Pro is one of the top antiviruses to scan and remove all kinds of malware in a few minutes.
Download and install Hitman Pro from the official website. It comes free for 30 days.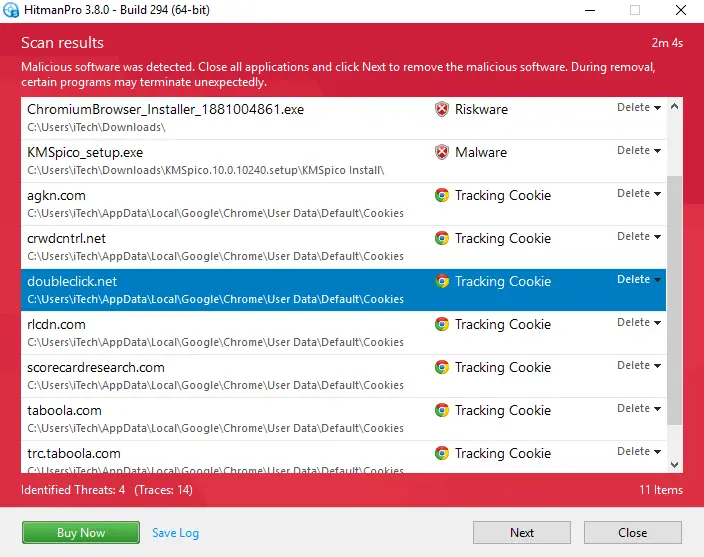 You need to perform a quick scan and delete all the found malware like a virus, trojan, etc. Now, restart your computer and check if the movie maker is working fine or not.
3. Changing User Permission
You may have another user account on your computer. Login to 2nd user account and check if the movie maker is working for other users. If it is working then the first user account has missing permission for movie maker.
To get the permission back you need to follow these steps.
Go to the "Properties" of the movie maker shortcut.
Select the "Security" tab.
Go to the Advanced option and another Window will pop up.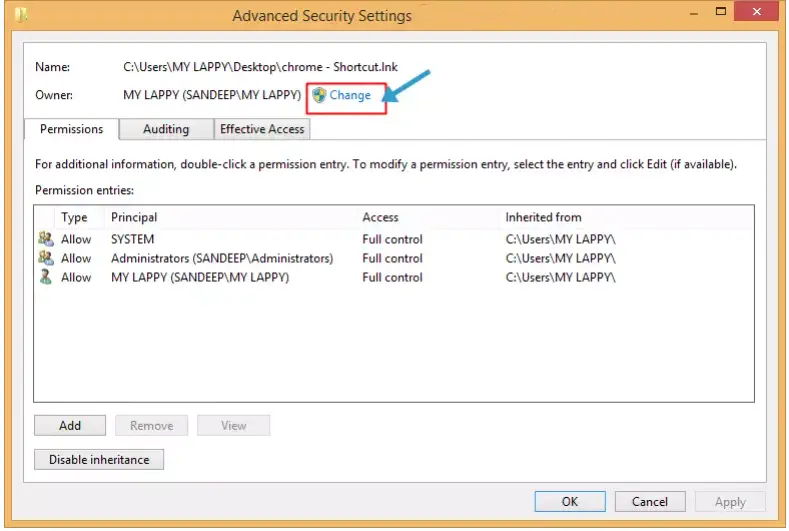 Inside the Advanced Security Setting, Change the ownership to the current user.
Click on Change and select your User Name on the next Window.
Hit Apply and Ok to all the dialog boxes.
Now check, if it was a user permission issue then the movie maker will work fine now.
4. Fix Corrupt Windows Files
If the above 3 solutions don't work then there may be some corrupt Windows files. We have no idea which file/s are corrupt so we need to scan the entire Windows files and repair them.
We need to fix the unknown corrupt files using the inbuilt Windows Scanner. Follow the steps given below.
Go to Start Menu and search for cmd or command prompt.
Highlight cmd and right-click on it.
Click on "Run as administrator"
It will open the command prompt as an administrator. Make sure you have logged in to the Admin user account, not the standard account.
Inside the cmd type "sfc /scannow" and press enter on your keyboard. The System File Checker (sfc) will scan and repair corrupt files.
If it can't repair then you may need to insert Windows Installation Media to repair corrupt files.
Final Words
Try all the above solutions to fix the movie maker issue, these would work in most cases. If you are still facing this issue then let us know in the comments.
Also Read –