iMessage is Apple's noteworthy native application. So, who would not like to have it on a PC? Although iMessage and messages are both available across all Apple's devices, Windows has been taken for granted in this aspect. In this tutorial, I will detail how you can incorporate iMessage on a PC in just a few minutes.
How to use iMessage on a PC?
You'd think that, especially after Apple allowed a dual boot of Windows on MacBooks, they would also let some of the flagship features slide by, but nope!
Well, if you are a Windows user as well as a huge fan of iMessage, there are a few ways that this scenario will work in your favor and run iMessage on PC, but be aware that these are only workarounds and may coerce a lot of risks. Check out three potential approaches mentioned below along with their inherent risks.
iPadian Emulator:
Installation can generate a security threat to your computer system, it is inundated with malware all along. If you have an anti-malware program to catch these different types of malware (a paid version with access to all full features), then you can proceed and download the iPadian emulator.
Chrome Remote Desktop:
A Mac computer is necessary to pair with a PC.
Jailbreak your iOS:
It negates the warranty and opens up your iOS to potential security risks, but this alternative is only for iPhone users.
Now check out these detailed techniques and try out which suits you best.
Get iMessage on PC Using iPadian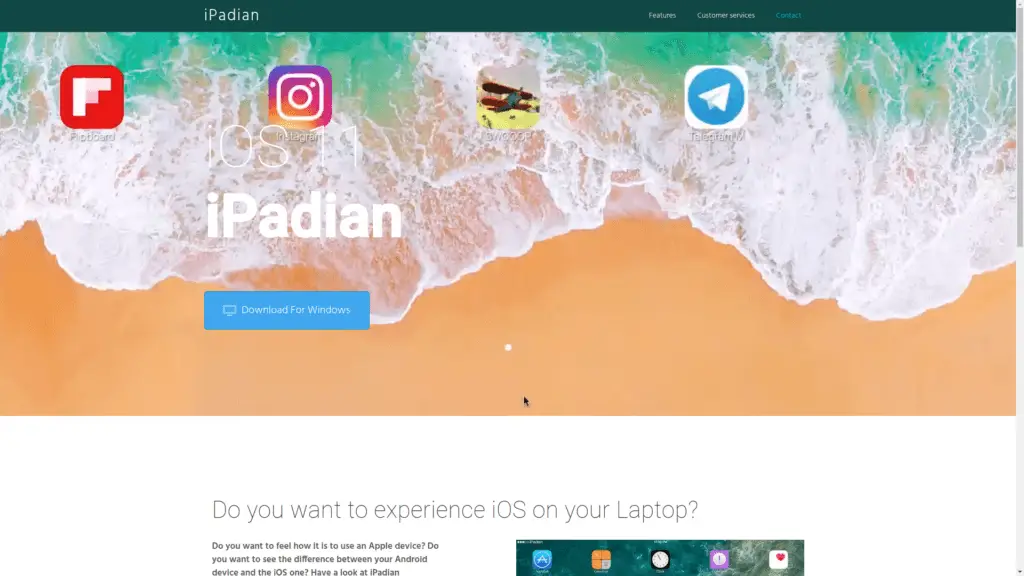 iPadian can be harmless if you own a licensed Anti-malware protection on your PC that keeps your root files sealed at the highest level. Therefore, you can go ahead and download iPadian on your Windows PC.
Make sure that your anti-malware program is running the most updated version.
Follow these instructions on how you install iPadian and the next steps:
Go to an iPadian official website and download it.
Install the platform like any other program on Windows.
Launch it. Look for "iMessage" or search on the search bar by typing the keyword "iMessage".
Side Note: To use iMessage you need a phone number associated with the SIM card on the device.
There is no way to escape from this situation! After that, you have to enable this option in the settings, which is only possible as long as the above requirements are met. So, at the very least, you must borrow an iPhone from a friend or have your own.
However, you have the option of using the MMS and SMS text features as you do with Android, and so on.
Get iMessage on PC using Chrome Remote Desktop.
The only shot at success you have with this method is when you have a Mac alongside Windows PC.
An important disadvantage worth mentioning in this manipulation (besides the fact that you do need a Mac) is that the installation and usage will be comprised if the MacBook/iMac is not running all the time. You will not be able to use it unless you have an Apple ID.
Just like any other remote service, Chrome Remote Desktop provides complete security and safety for your connection. As an administrator, you are allowed to even add anyone to your secure connection.
Find out how to connect Windows PC to Mac and enjoy access to iMessage-
Add Chrome Remote Desktop to the browser from the Chrome web store.
Download & install this platform on both systems- Mac and Windows.
During this process, the Remote Desktop extension installed on your Mac will automatically generate a code that you have to write down.
Now, on your Windows PC, open the same program again and enter this access code.
Once the connection is successful (usually takes less than a minute), you will see a screen displaying your Mac desktop.
Now, you can start managing iMessage from your PC remotely.
Flash News: Chrome Remote Desktop is a cross-platform application that works on Windows, Mac, & Linux- based systems. So, that increases the possibilities of you employing iMessage not only on Windows.
Get iMessage on PC by Jailbreaking your iOS.
For the newbies, jailbreaking is as effective as its name. It breaks-free your iPhone from all restrictions and renders it usable for a variety of applications that are not found on the App Store.
Although downloading apps that do not offer support means bringing risks to your iPhones but if you want to use iMessage on Windows PC, then this the key.
Currently, the iPhone devices from SE to 6S Plus delivers support to a specific jailbreak available for iOS 10.2.
What comes next?
Once you're through the iOS jailbreaking process, install Cydia.
Open Cydia and search for an application named Remote Messages. This will only cost you $4 and you need to purchase it from the BigBoss repo.
The app will open a web-based interface on your Windows PC identical to the iMessage.
You need to enter your iPhone's IP address (while it is connected to WiFi) and at the end, just enter the port number":333".
Note: Do not forget to set a strong password to increase your security.
You can now log into iMessage remotely by opening any browser installed on your Windows and entering the IP address followed by the port number.
Also Read –