Using iMessage on iPhone & iPad is as much fun as it is useful. Ranging from personal to professional, the iMessage app serves multiple usages.
You can send more than just text, images, and videos. You can choose to share your current location with friends and family or let your parents know of your whereabouts. Location sharing via maps will curb their anxiety and set them free from worrying.
In the newest iOS update, users can send a map of a specific location to anyone in their contacts using the Maps app integrated right into the native Messages app.
On top of this, you can even send your current location or set it up in a way that the location sharing takes place over a period of time. This handy feature is useful when you are attending informal or formal events like weddings, seminars, concerts, or driving through an unfamiliar place- for instance, traveling to another city due to work.
Here's how to do all of this in just a few taps on iMessage.
How to send your current location with iMessage for iPhone & iPad?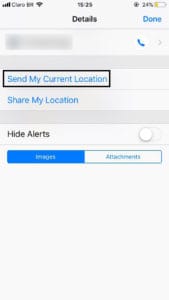 Launch the iOS native Messages app- in green and white.
Tap on an existing conversation or start a new one to send your location.
Then tap on the Information button in the upper right-hand corner- indicated as 'i' inside a circle.
Lastly, tap on Send My Current Location.
Once the recipient sees your location, they can tap on it to find directions using the Maps app on their Apple device.
How to perform location sharing with contact(s) for a set duration using iMessage?
At times, it might be important to let your folks know of your current location, such as a teen whose parents would like to know their son's or daughter's exact location at all times.
Another instance would be if you are running late for a date and you want to inform the other person waiting for you all alone at a restaurant that you will be there soon.
During such an event, mere words don't hold any weight. So, it is better if you let them see that you are where you say you are. This would avoid any misunderstandings and save everyone involved a lot of stress. Here's how you can stay honest by sharing your location.
Launch the Messages app.
Tap on the conversation with whom you'd like to share your location. It can be either an individual person or a group that is connected to iMessage.
Select the Information button in the upper right hand.
corner and then tap Share My Location.
Select the duration you want to share the location with another person(s).
Doing so, iMessage will open a temporary or permanent 'Find my Friends' session so your friends and family (or a date/partner) can see your whereabouts.
How to share location from the Maps app with iMessage?
Say you have found the perfect place for a date, and you want to share it with that person. You can send it easily using iMessage in the following steps.
Launch the Maps app on your iPhone.
Find the location that you want to share. If you also want to include your current location, just tap on the Location arrow.
Then swipe up from the bottom of the screen.
Tap on the Share button and select Message.
In the 'To:' field, type the name of the person with whom you want to share this location.
Finally, tap Send.
This new feature of iOS is very helpful on various occasions; if you face any issues, please let me know in the comments.
Read-