There always seems to be a certain level of expectation from almost every gadget that we own today. Whether that's a smartphone, a smart TV, or… a smartwatch.
A simple search on the internet will result in tons of smartwatches claiming to be most valuable. No doubt there are products from big brands ruling the market. But they cost a high amount of money and technology is changing really fast.
You don't want to spend money on something that will be outdated next year.
There are some lesser-known brands like Microwear who are specialized in making smartwatches, their latest is Microwear L12 which is giving tough competition to established companies.
The Microwear is releasing impressive and user-friendly smartwatches every year at a reasonable price.
Microwear L12 Smartwatch Review – Should You Buy?
Microwear is making smartwatches for many years, they are releasing updated versions of their smartwatch series every year. The affordable and most liked is their L series smartwatch.
Microwear L12 2020 version is their latest smartwatch in the edition. The watch can be paired with any Android or iOS smartphone via Bluetooth. The smartwatch has tons of useful features to support your digital life.
There are three underlying aspects of Microwear L12 that are quite distinct when compared to its high-priced competitors.
Specifications-
Here are the main specification of L12 smartwatch-
Size – 47.8*47.8*12.2mm.
Display Size – 1.3 inch HD IPS Display (240*240) Full touch screen.
Bluetooth Version – 3.0 and 4.0 to support Bluetooth calling.
Chipset – MTK2502D (RAM 32mb+32mb Frequency 256MHz) for faster processing.
Weight – 50 gm
Magnetic Charger.
Battery – 300 mAh
Body Material – Alloy
Works on – Android 4.4 and above. iOS 9.0 and above.
Features-
Microwear L12 comes with tons of useful features for everyone starting from activity monitor to Bluetooth calling. Here are some of the key features of the watch-
It supports Bluetooth calls.
Activity monitor.
Different sport modes.
Call, Email, Whatsapp, Facebook, etc notifications.
IP68 Waterproof for longer swimming sessions
Pedometer Step motion meter, calorie consumption, Mileage record.
Sedentary reminder
Anti-loss two-way mobile finder.
Sleep Monitor.
Bluetooth music control.
Alarm, stopwatch, calendar, and many other features.
Apart from the mentioned features, we found some of these eyes groping features in the L12 smartwatch.
1. Thin and Lightweight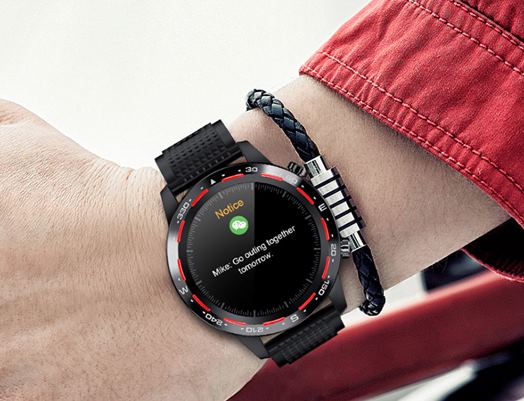 Microwear smartwatch L12 is 12.2 mm thin. This comes after long & hard research and development from the brains at work here at Microwear.
Also, it's lightweight characteristics come from the use of aerodynamic materials that the dial and most of the body is made out of. The watch does not feel heavy in the hand while wearing it.
For the first time, it may be a bit awkward to adjust to a new watch but after a few days, you won't even feel it in your hand.
2. Designed To Serve The Sports Enthusiast
There is multiple activity monitor, which is more than any other brand offering the same right now.
Some of these are activities are outlined here:
Walking
Running
Mountaineering
Cycling
Badminton
Swimming
These come handy for people in different sports, you can accurately monitor your performance, time spent, heart rate, etc, it lets you sync the data to your smartphone where you can analyze historical data.
Moreover, there are two other essential modes- sleep monitor and sedentary reminder. You might wonder why do you need to monitor your sleep? But, think about it for a second.
These days your work takes up a substantial amount of your time. It has been proven that an adult person works at least 10-12 hours per day, and that is simply exhausting the body.
Sleep is where you regain most of this pent-up energy and that's why the sleep monitor is essential in a smartwatch.
Likewise, the sedentary reminder in this Microwear smartwatch reminds you to get up every now and then and stretch those sore muscles. This helps to keep the blood flow within your body.
3. Beautiful colorful display
Microwear L12 has a super LCD 1.3-inch HD IPS display with TFT Resolution on a 240*240 pixels square display. This is powered by an MTK2502D CPU and a 300 mAh battery.
The display is crisp and crystal clear even with 240px resolution, you can easily look at it from different angles.
4. Calling and Social Notifications
Are you worried about missing important calls, emails, or social media notifications? This watch can handle all of them, you can receive calls and talk while playing or doing other activities.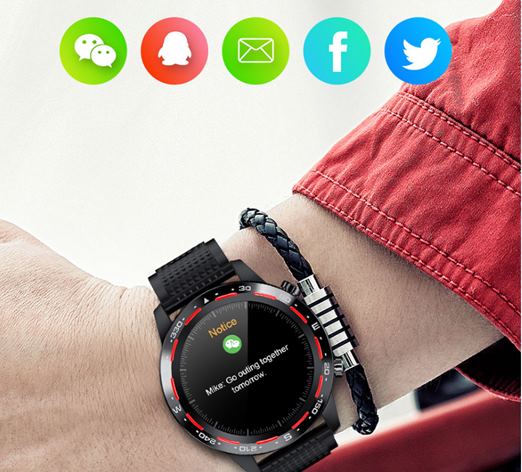 You need to install the Smartwatch app after that you can synchronize phone notifications, social media notification with a content display that supports WhatsApp, Facebook, Twitter, WeChat, Line, etc.
Easily receive all calls when paired to the smartphone via BlueTooth.
5. Long Battery Life of Microwear L12
What is the use of any smart device when you have to keep charging it? Microwear L12 has a powerful 300mAh battery that can last for 2-3 days while in use and 5 days in standby mode.
The MediaTek processor is an efficient CPU that consumes minimum power in any smart device. The watch employs the new MTK2502D  processor for faster processing with less power consumption.
It has more power than the latest iWatch 5, you can easily count on the battery performance of Microwear L12. It won't run out of juice during activities, sleep, or calls.
Verdict
All of this goes to show the dedication put forth by the L12 watchmakers. There are also three different colors- black, red, and green with invigorating straps that are waterproof, just like the display screen. It is IP68 certified as well.
Now, with the revolutionary L12, you can get more use out of a smartwatch. Use it as a stopwatch, calculator, phone finder, Bluetooth camera, or a notifier.
You can not make any calls from it since there's no provision to insert a SIM card but that's actually a good thing. The battery does not drain as compared to its LTE counterpart.
Overall, it is a good smartwatch with full functionality that can beat any other brand with its feature and qualities. Also, it does not put any burden on your pocket. It cost USD 30.50 only.
You can get an extra $3 discount if you are a new customer to Aliexpress.
There's no saying when you might run into the need for a smartwatch, perhaps the time is right now so you can fast-track your weight loss goals just in time.
Also don't forget to check out: