Windows 8/8.1 has awesome visual interface, looks and feel, Microsoft offers more security, scalability and other important features, but when you use Windows 8 /8.1 for the first time it will be hard to navigate around the settings and other important areas into the windows 8, because there is no Start Menu and it gets difficult to find the programs you are looking for.
Also, they have changed the troubleshooting interface which appears before windows startup like Safe Mode, Safe Mode with networking, System Restore, System Image Recovery, Startup Setting and many other options.
Windows 8/8.1 doesn't start in safe mode as the earlier version of windows can by tapping F8 key at the windows startup, Safe mode and Safe mode with networking help us to troubleshoot a different kind of windows problem which occurs by the time and use.
Start / boot Windows 8.1 in Safe Mode
Quite possibly you are having major Windows issues or error and you are looking for how to start/boot windows 8 in safe mode, or you may need to start windows 8 in safe mode for any other purpose. There are 3 Methods to boot into Safe Mode.
1. Boot in Safe Mode when you are unable to Login into Windows
If your computer does start and lands on the login screen but you can't login after entering the password then follow below steps-
1. Start your computer by pressing power button and go to login screen, but do not login.
2. Now on the login screen Press and hold the "Shift" key on your keyboard, you may press any one of the shift key right or the left one, now look at the right bottom corner you will get power icon, click on that icon it will give options to Sleep, Shutdown and Restart your computer, from there click on Restart.
After the Restart, a blue screen will appear with few options.
3. From this Choose an Option window click on Troubleshoot and another screen will appear with other options.
 4. Click on Advanced options on the Troubleshoot Screen.
5. On the Advanced Options screen, Click on Windows Startup Settings.
6. Now you have to click on Restart.
After the restart, you will get Startup Setting screen with the number of options.
Now press the numbers on your keyboard for which option you are looking for, like for "Safe Mode" Press 4, for "Safe mode with command prompt" Press 6 and so on.
2. Boot in Safe mode after login into the Windows 8
Above method is helpful when you can't login into Windows 8, but let's say you are able to login into the computer then you can easily boot into safe mode, follow these steps-
Press Win+R button together and you will get a RUN dialog box, type msconfig there and hit OK.
Now you will get System Configuration window, from there click on Boot tab.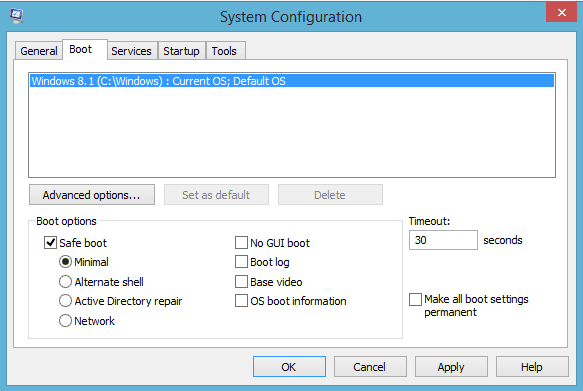 Now check the Safe boot option, here you can also select the sub-option of the safe boot like if you want to boot into safe mode with networking then select Network option click on Apply then OK, thereafter normally restart your computer and it'll directly boot into safe mode.
3. Boot Windows 8 in Safe mode when can't go to the Login screen
Above 2 methods can be used when you are able to land on the login screen or able to login into windows 8, but what to do when you even can't reach up to the login screen?
Windows 7 and earlier windows were able to boot into safe mode even without going on login screen but windows 8 does not support this. Below is the tricks, to do so –
Restart your computer, at the system logo screen Press and hold 'Shift' key and immediately Start tapping F8 key, this may results in Recovery Option, from there click on See Advanced Repair Options and follow from there as mentioned in 1st Method.
It is not necessary that windows will prompt for Recovery Options by Holding Shift and be tapping the f8 key, in such case perform an Unexpected Shutdown, that means,

If you are using Desktop Computer, turn it ON and wait for a minute, and plug off the Power(electricity) now plug in back and start the computer now it'll prompt for Recovery Option.
If you are on Laptop turn it ON, remove the charger and pull out the battery, now put the battery again and turn it ON it'll prompt for Recovery Option.
If this doesn't prompt for Recovery option then perform Unexpected shutdown 2-3 time and it'll surely land on Recovery Option, from there go to Advanced Repair option and follow the steps mentioned above.
Also Read