Perhaps one of the scariest scenes for any Windows user is the Black screen of death. If you are turning ON Windows 10 and do not see anything but a completely black screen without a cursor, then you have a problem! 
Normal users do not know how to solve this problem. It becomes even more problematic when you can't figure out what is wrong, and moving the mouse results in nothing.
However, you can fix the black screen of death on Windows 10 even if you don't get a cursor. Normally, it occurs due to corrupt display drivers, and reinstalling them fixes the issue.
In this article, you will find easy-to-follow methods to fix this problem with your PC.
How to fix Windows 10 Black Screen of Death?
The common reason behind the total black screen is a corrupt graphics card driver, apart from driver these are some common reasons –
Unsupported DirectX module.
Failed hardware.
Screen resolution set to higher than supported.
Failed Windows updates.
Or some unknown reason, in all such cases, you can solve the problem by following the given methods.
Make Sure Your Windows is Turning On 
The very first thing you want to make sure is whether your computer is turning on properly or not. To do this, just see the Power LED light. If it is on, then there is no problem.
Additionally, you can also check the Caps Lock LED. If it is turning on, then you can move on to fix the Black screen of death error. 
Also, check if your monitor is connected properly or not. Check the HDMI and VGA ports, and make sure that there is nothing wrong with the cables as well.  
Fix: By Booting in Repair Mode
The very first thing you need to do is boot Windows 10 in repair mode. You can easily access repair mode if you can see the screen, but in this case, you have to try these options.
Booting in Repair Mode
Well, the easy way to boot into repair mode to open advanced settings is by pressing the "f11" key when you turn on your computer. 
If that isn't working for you, then you will have to trigger the Automatic Repair mode. To trigger the automatic repair mode, you will have to perform a hard restart.
The Windows automatically enters into Automatic Repair mode if it fails to boot up manually three times.
For Laptops
To trigger the Automatic Repair mode: 
Turn your laptop on by pressing the power button.
Now press and hold the power button for about 10 seconds.
Repeat the above steps three times. 
Finally, turn your laptop on and this time, Windows will start in Repair mode. 
For Desktops 
Desktops will save you the trouble of pressing and holding the power button as they do not have batteries.
Just press the power button. 
Before the Windows load, unplug the CPU from the power source. 
Repeat the above steps 3 times. 
Finally, turn your desktop on and this time it will start in Repair mode.
Fixing Black Screen of Death Error In Safe Mode
1: Once you enter the Startup Repair, Windows will ask you to select an account. 
2: Select your user account and type the password to enter.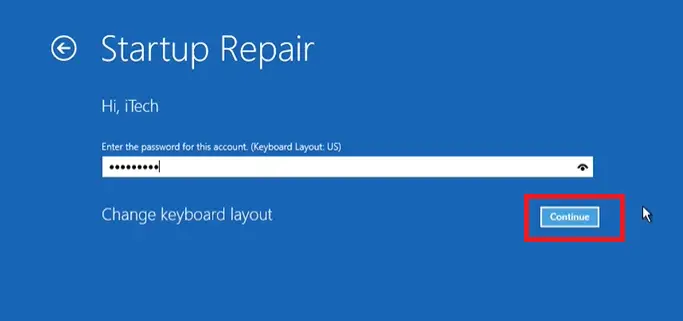 Now, the Startup Repair will try to fix your computer. 
3: If it fails, you will get the message and option to Shut down your computer or go to Advanced options. 
4: Click on 'Advanced options'.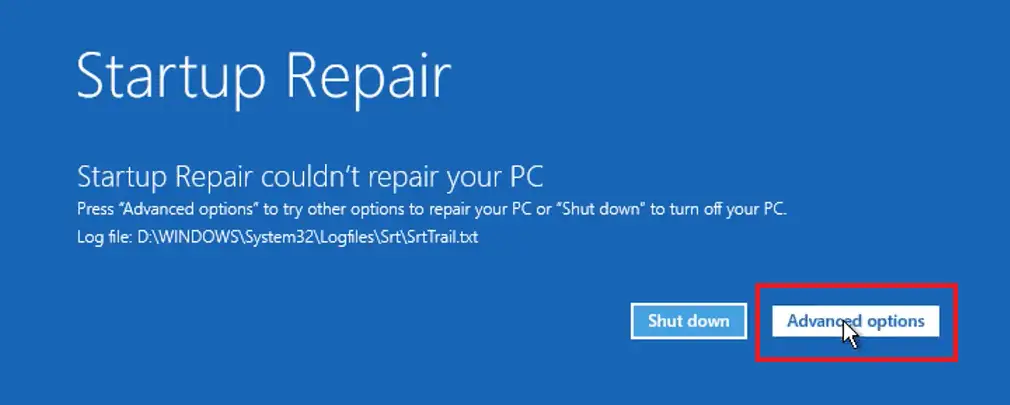 5: From the Advanced options, click on 'Troubleshoot'.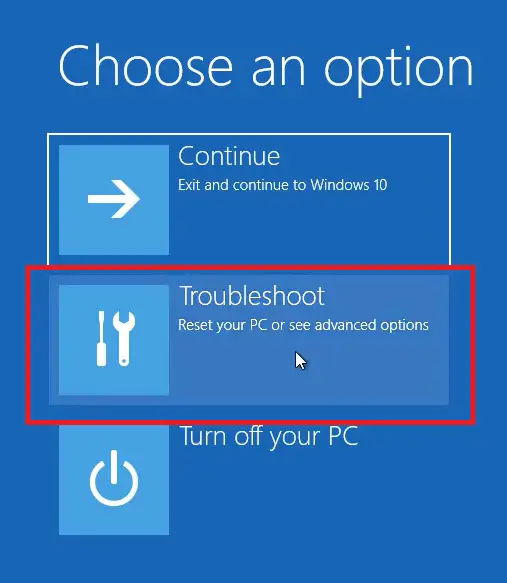 6: Again, click on 'Advanced options'. 
7: Click on 'Startup Settings'.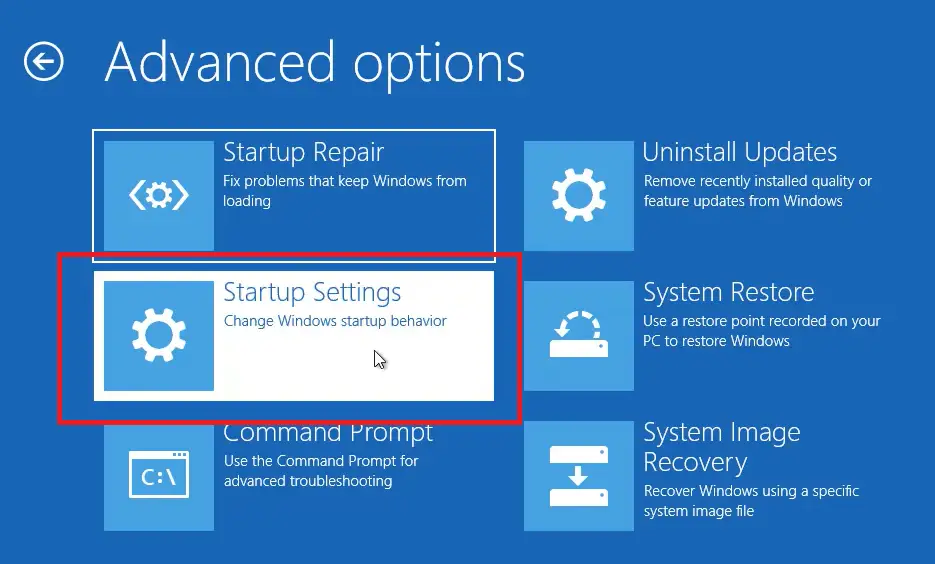 8: Finally, click on 'Restart'. 
Now the computer will restart and you will get startup options. 
9: To start Windows 10 in safe mode, press the number '4' key on your keyboard.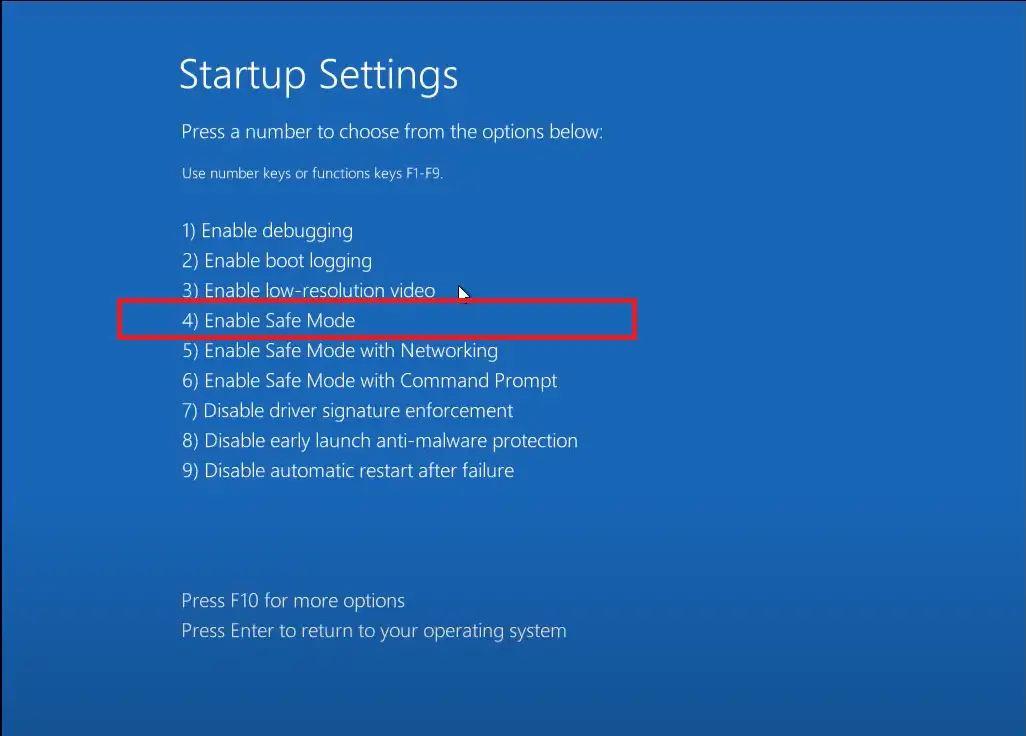 Windows will now start in Safe Mode. 
10: Choose the admin account, enter the password, and log in.
11: Press the "windows+R" keys to open the Run dialog box. 
12: Type "devmgmt.msc" to open device manager.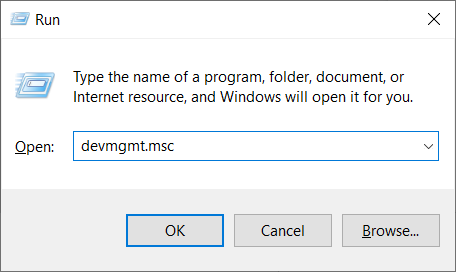 13: Double-click on the 'Display adapters' to expand it. 
14: Right-click on your display adapter, then click on 'Uninstall device'. 
15: Check the box reading "Delete the driver software for this device" and click on 'Uninstall'. 
If you have a graphics card, it will be listed under Display adapters, Uninstall the drivers for the graphics card too.
16: Repeat steps 14 and 15 for 'Monitors' as well if you are using a monitor.
That's it now restart your computer. If there is something wrong with the display drivers, this method will fix it. 
Reinstalling Graphics Driver
If uninstalling the display driver doesn't fix the problem, then you can uninstall the Graphics card driver.
While you are in safe mode, follow these steps:-
1. Go to Start and access the "Settings" app.
2. Open Apps option.
3. Look for the graphics card driver and Uninstall it. It may be Nvidia, AMD, or Intel driver.
4. Restart your PC and re-install the graphics driver. You have to visit the official website and find the latest driver for your graphics card model.
Restart again, and you should be able to login into Windows 10.
Problem With Intel HD Graphics Driver
The latest version of Intel HD graphics is really problematic with Windows 10 updates 1903, 1909, and 2004. There is no full-proof fix as if now. It is better to remove the Intel HD driver.
You can try to revert back to an older version of the Intel HD graphics driver or update Windows 10 to the latest build.
With the latest updates, you won't get a black screen on Windows 10.
Closing Phrase 
Windows 10 users may face this problem out of nowhere; these were some methods to fix the Black screen of death error in Windows 10 when you don't see the cursor.
Generally, the above fix will solve the issue for you, and if it doesn't, you can try different video outputs/screen resolutions. You can also run the SFC and DISM tools in Safe mode, and that might help to fix the issue. 
Also, Read: