If you're the one who's looking for a way to enable dark mode or black theme after installing Windows 10 Anniversary Update? You're in right place reading the right piece of content.
Windows 10 Anniversary update is available for users all across the globe. As it is a major update, it arrived with lots of useful features which were not available in the previous version or build of Windows 10, and one out of them is Dark Mode or Black Theme.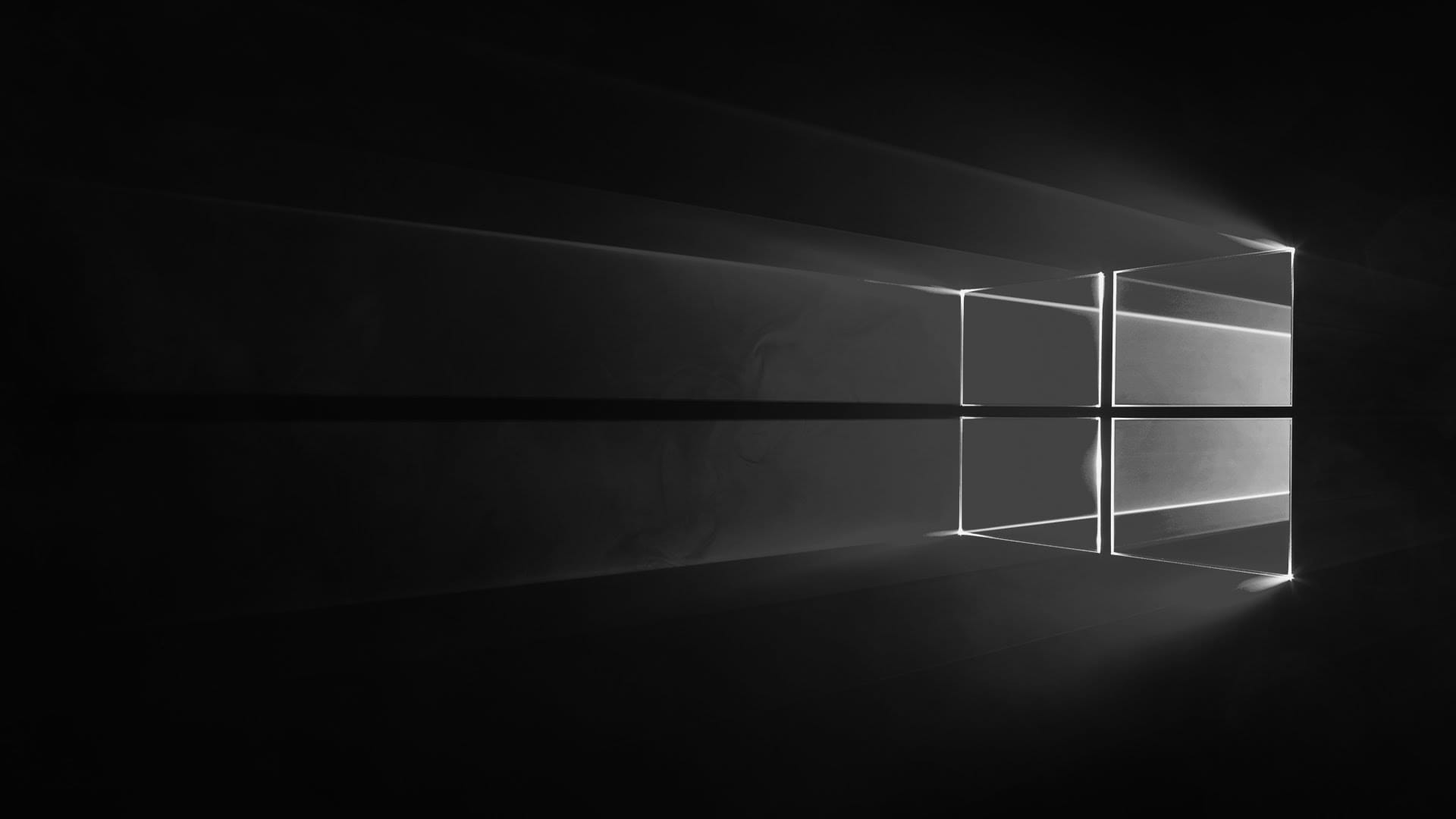 If you still didn't get the latest update of Windows 10 then you need to read our previous article on What's New in Windows 10 Anniversary Update for detailed information.
Enable Dark Mode or Theme in Windows 10
Windows 10 Mobile already have the ability to select between light and dark mode for the last few months and due to heavy demand for this app mode feature.
Microsoft has also provided an option under the Settings app using which users can easily switch between dark and light app mode in Windows 10 PCs just by making a single click.
Even the default browser of Windows 10 i.e. Microsoft Edge already had this option before the functionality is added to the overall system in Windows 10 Anniversary update. We still do not have the answer to the question i.e. What stop Microsoft from adding the dark mode to the overall system earlier.
We actually do not care about the reason now, because the company has already added the dark mode into Windows 10 with the help of Anniversary Update. Any user who has successfully upgraded to version 1607 of Windows 10 can now enable dark mode.
A quick tip to enable dark theme in Edge browser (Before Anniversary update)
In Edge browser open the Menu from the right-top corner and select Settings, Select the "Choose a theme" box, and choose "Dark." and this will make the edge's appearance dark.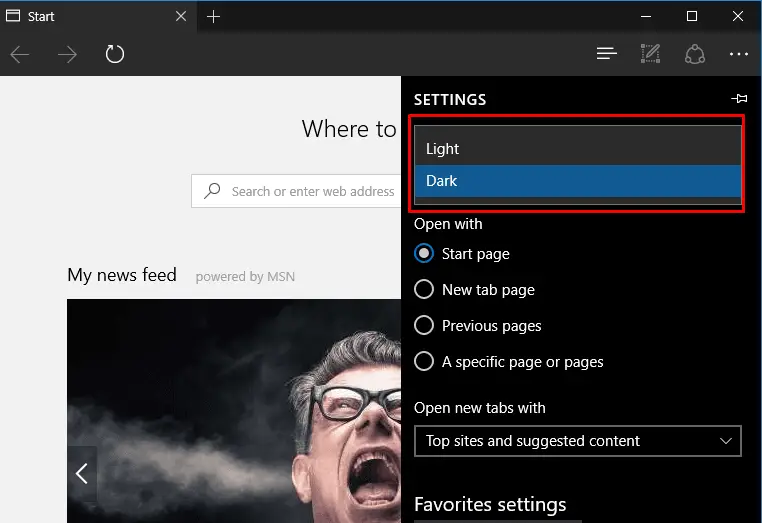 Enable Dark Mode in Windows 10 Version 1903 & Above
Now you don't need to do any tweaks or registry hack to enable dark mode in windows 10 after the anniversary update which makes it easier to enable dark themes within few clicks. It is applicable to the newer version 1903 & above.
If you really want to switch to the Black theme from the light theme. You need to follow the below steps:
1. First of all open the Settings App. (Use Win + I Hotkeys).
Click on Personalization.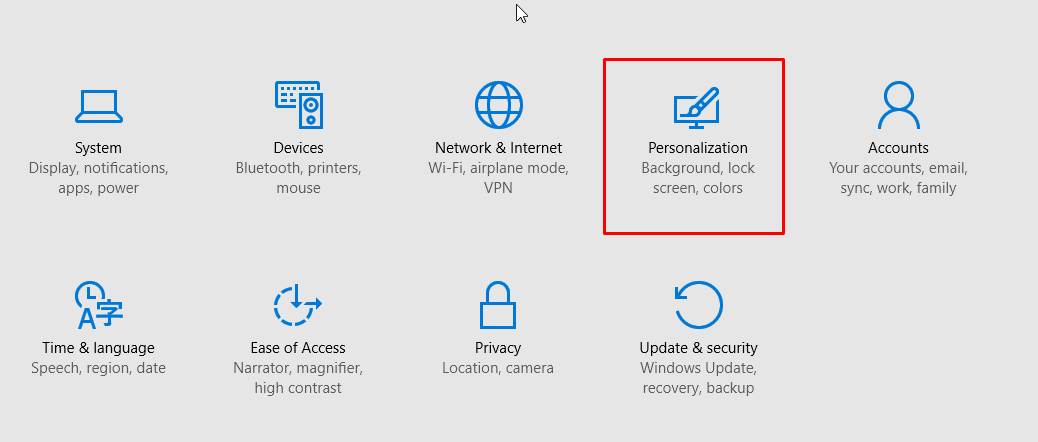 On the left panel, navigate to Colors options and click on it.
On the right panel, scroll down and you will see an option named "Choose your mode". Under it, you will see to options Light and Dark.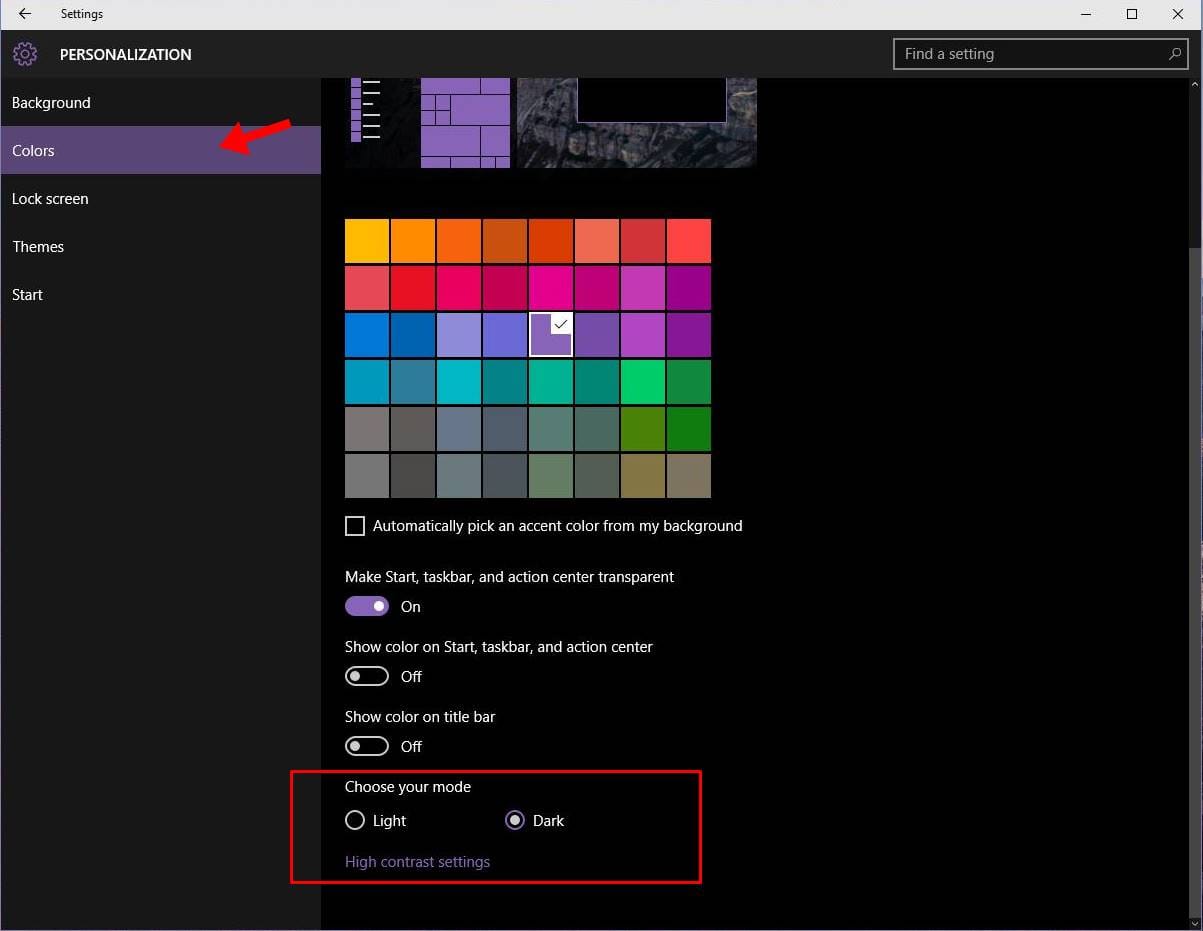 By default, the light mode is selected. To switch to Dark Mode, you need to select the Dark mode. Once done you will notice the changes instantly.
Note: Keep in mind that you will only find these settings if you have successfully upgraded to Anniversary Update version 1607.
Useful Information:
You will see the effect of the dark theme in all the system apps like Windows Store, Mail App, Calendar App and more.
Enable Dark Theme in Windows 10 (Below Version 1607)
In case, you're not interested in upgrading your current Windows 10 operating system to the latest version. Still, you can enable a dark theme. For that, you need to take the help of a registry hack. Here is how to do it:
1. Open the Registry Editor (Use Win + R Hotkeys) and type regedit in the space provide. Alternatively, you can directly search regedit in Windows 10 Start menu search bar.
When UAC screen appears, click Yes to continue.
2. After that navigate to the following key:
HKCU\SOFTWARE\Microsoft\Windows\CurrentVersion\Themes\Personalize
3. Now select the Personalize key and create DWORD (32-bit Value) on the right side and name it AppUseLightTheme and keep its Value Data to 0.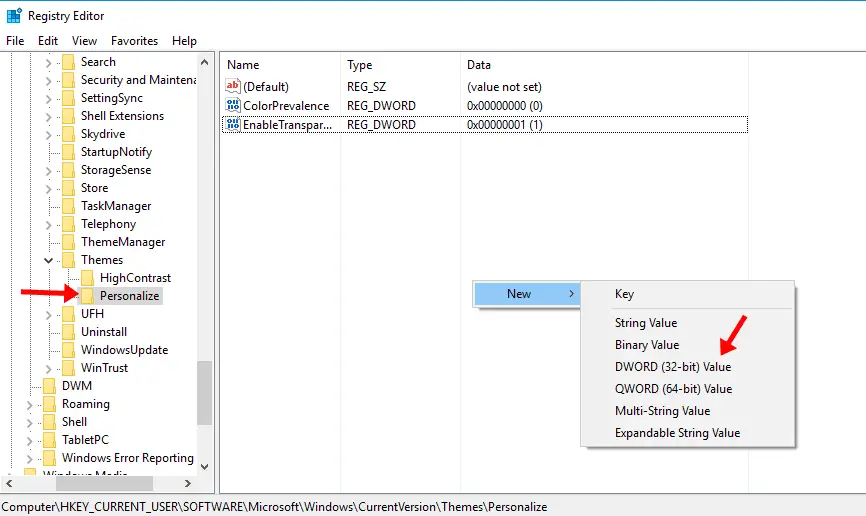 4. Now navigate to
 HKEY_LOCAL_MACHINE\SOFTWARE\Microsoft\Windows\CurrentVersion\Themes\Personalize
again and create a DWORD (32-bit Value) in Personalize folder, name it AppUseLightTheme and keep its Value Data to 0.
Note: If the above registry hack does not work for you, then rename AppUseLightTheme to SystemUsesLightTheme.
5. Launch the Setting app. You will notice that it is using a dark theme instead of light.
In case, you want to switch to a light theme from a dark theme, then you just need to change the Value Data to 1 and the Setting app starts using the light theme.
Also, if you get back to default settings permanently, then simply delete the value which you created in the above step.
OR Download this Registry Patch to Enable/Disable dark theme.
Note: This registry hacks works only on the Professional, Education, and Enterprise editions of Windows 10.
Enable Dark Theme using Third-Party Software (Winaero Tweaker)
Alternatively, if you find the registry hack bit complicated or dark theme is not working for the Windows Edition you have. No worries! You can also use the Winaero Tweaker app to enable the black theme in Windows 10. The good thing about this tool is that it also helps you to enable the dark theme for all the modern apps which come with Windows 10 operating system.
For that, you need to follow these steps:
1. Download and install the Winaero Tweaker.
2. After launching the application. Under Appearance, you will see the different options.
3. Under Appearance, click on Dark Color Scheme.
4. On the right panel, you will see two options i.e.
System Uses Light Theme
Apps Use Light Theme
Uncheck the box to enable dark theme, or Check the boxes according to your requirement.
So these are possible ways to Enable Dark Mode in Windows 10? Why don't you try the dark theme and let us know whether you like the Dark Theme or not in the comments?
Also Read-