YouTube is biggest video hosting site we can find videos related to any topic like movies, songs, tutorials and much more variety of entertainment and information, you can watch any video on YouTube but what if you found a video which you really need and want to save it to the computer.
YouTube does not provide download option for any video due to copyrighted content, you can download videos from YouTube but cannot use them like you cannot upload others video for commercial and non-commercial purpose if you want to use any video you need permission from video owner.
Download YouTube Videos in Simple Steps
Although there are several software and website ( free & Paid ) available in the market to download Youtube videos, but using a software to download videos is  lengthy task as you have to copy video URL and process them to software or website and sometime video quality may be compromised, So here is easy Extension available for all major browsers like Google Chrome, Mozilla Firefox and Opera mini.
Step 1. Go to this Link.  Once you will open this site you will get Saveform.net webpage.
 Step 2. Scroll down to middle and you will get an option to download Extension for your browser.
Step 3. Click on Install the Extension for your browser and it will download Extension file, let's say I downloaded it for Google Chrome. It will Give you a warning message before download just clicks on Continue to download it.
 Step 4. Now go to Download Folder and you will get helper_last.crx file ( for google chrome) copy this file and paste it on desktop.
Step 5. Now go to Top Right corner of google chrome and click on this icon  
   and you will get a list of options, hover your mouse on Tool option and from the sub Menu click on Extension.
  Once you will Click on Extension a new chrome extension page will be open.
Step 6. Now exit your browser from Full Screen so that you can see the copied helper_last.crx file, just drag this file in chrome extension page where it says Drop to install, Drop this file here it will install into your browser, you will get a message Click on Add.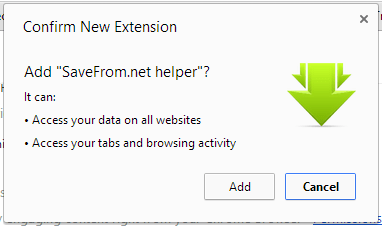 You are Done. Now go to Youtube and Play any Video you will get a Download button Below the Video as shown in below picture.
Once you will Click on Download it will give you the option to download the video in available quality and you will get a More button.
Once you click on More button it will give you the option to download videos in all available format and quality with video size information. Click on any quality you want to download it will save the video to your hard drive.
           Watch This Video Tutorial to Download YouTube Videos
If you face any problem please comment below, share this valuable information.
Also read- 
How to Live Stream Recorded Videos on Facebook