Sometimes you might want to delete your Gmail account permanently due to different reasons, maybe you just don't like the email address you created a long ago, or it is bombarded by spam emails. Your Gmail account might be one of the most important accounts in your workflow.
You might not even realize how many important things regarding your smartphone and computer are associated with them. Now if you are fed up with the spam emails, or you just want to make a fresh new start, then you can delete your Gmail account permanently.
In this guide, you will see a step-by-step guide to getting rid of Gmail.
What Should You Know Before Doing So 
Here is something you need to know, deleting your Google account is an extreme step. If you do so, you won't be able to access Google services on your smartphone, laptop, and other devices. 
You will also lose all of your Google Drive backup, which includes photos, videos, etc. Along with that, you won't be able to use Google apps like Meet, Docs, Maps, etc. 
Ultimately you will lose everything you work with if you delete your Google account. Even if you delete your account, to use the functionalities on your smartphone or laptop, you will have to create a new account. So only do this if you wish to start over completely and do not want any of your old data with you. 
However, Gmail is a service that is provided under your Google account. If you wish to delete your Gmail account, you can do that without deleting your Google account. 
Delete Your Gmail Account Permanently in 2023
Google keeps changing the user interface from time to time, so the steps become a bit different. Here is the latest method to remove your Gmail account:
1: Open your Gmail and click on your profile in the top-right corner. Then click on Manage your Google Account.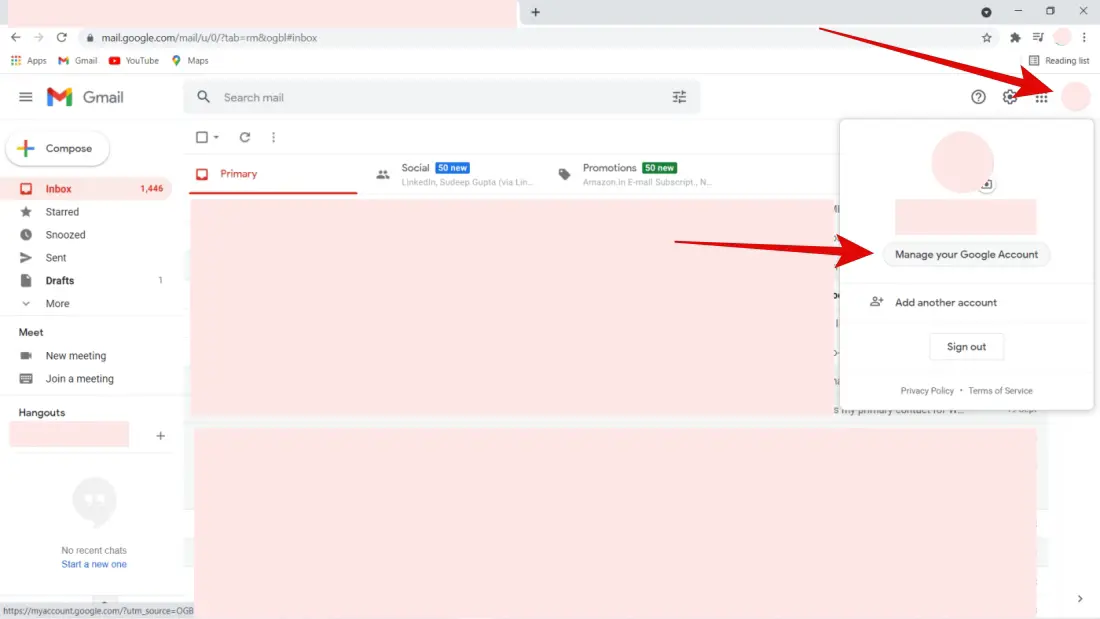 2: Now click on Data and privacy on the left.
3: Scroll all the way down and click on Delete a Google Service under Download or delete your data. 
Alternatively, you can visit this link – https://myaccount.google.com/deleteservices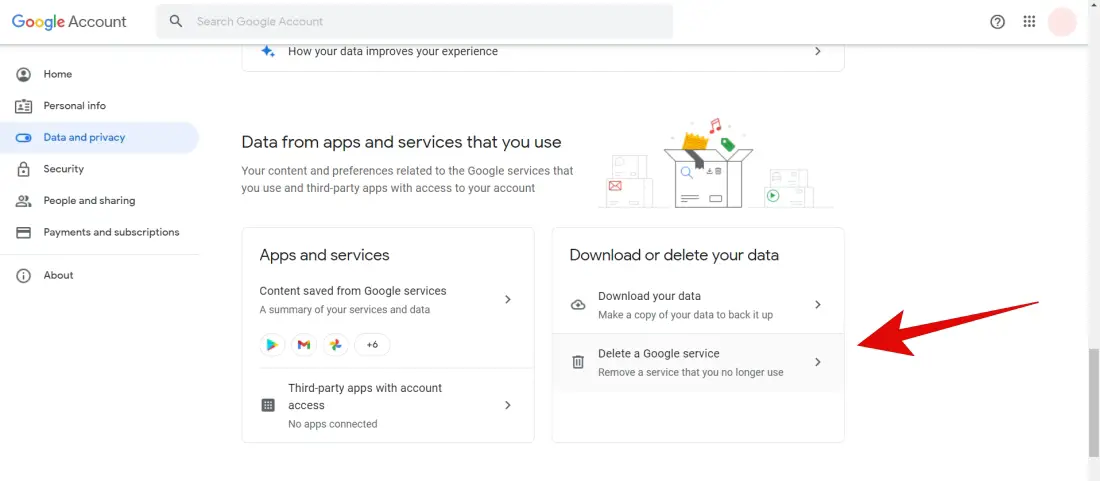 4: You will now have to log in to your account for verification. 
5: Click on the bin icon across Gmail.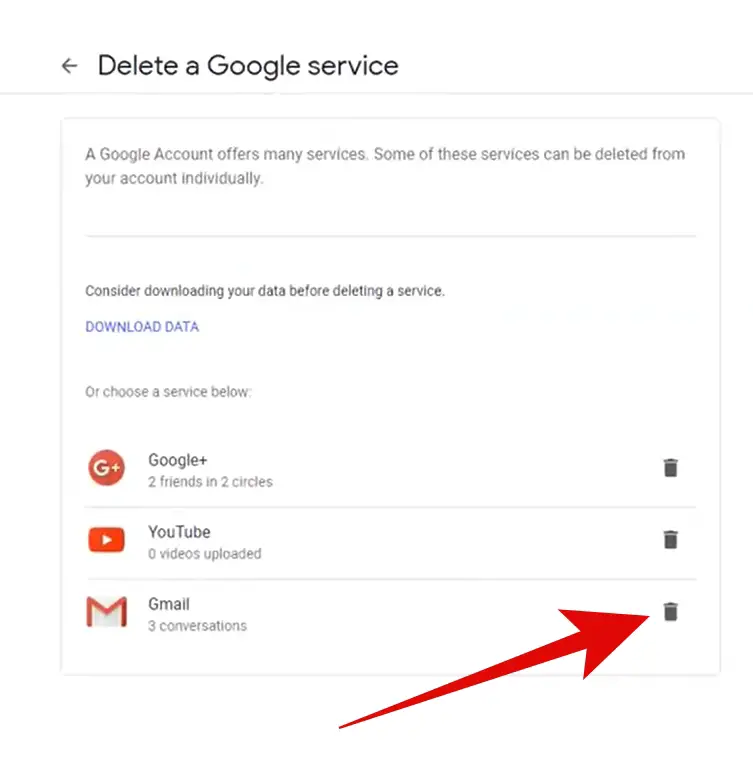 6: Now, you will have to provide an email that will be used for login purposes. It may not necessarily be hosted on Gmail. It can be from other email clients like Yahoo, Zoho, Hotmail, etc. 
Select the address and click on Next. 
7: Once you enter a new email address, click on SEND VERIFICATION EMAIL.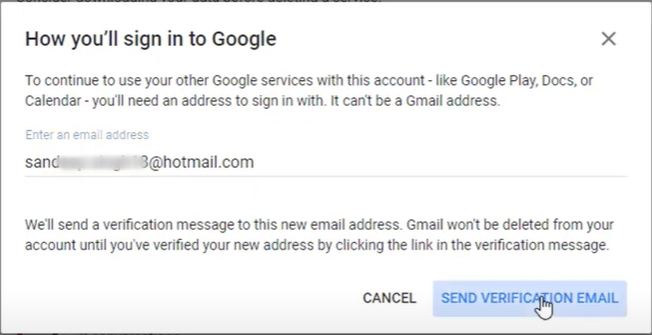 Google will send a verification mail to that address. So you have to go and log in to the other email address you provided in Step 6. 
8: Log in to the email account you provided and open Google's verification email. 
9: The email contains a link to delete your account. Just click on it.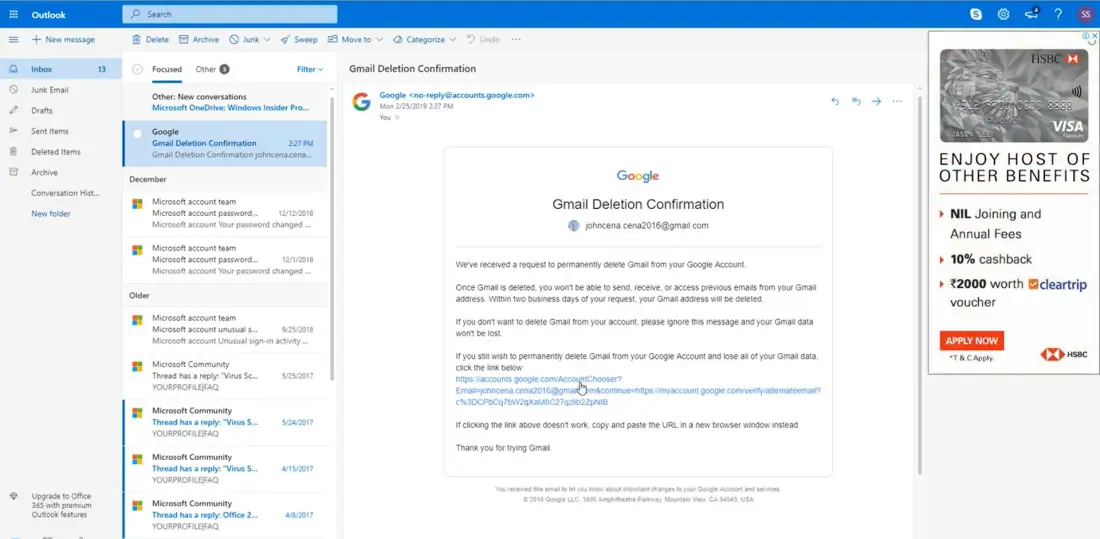 10: You will now see the Confirm Gmail deletion page, read everything, check the box and then click on DELETE GMAIL.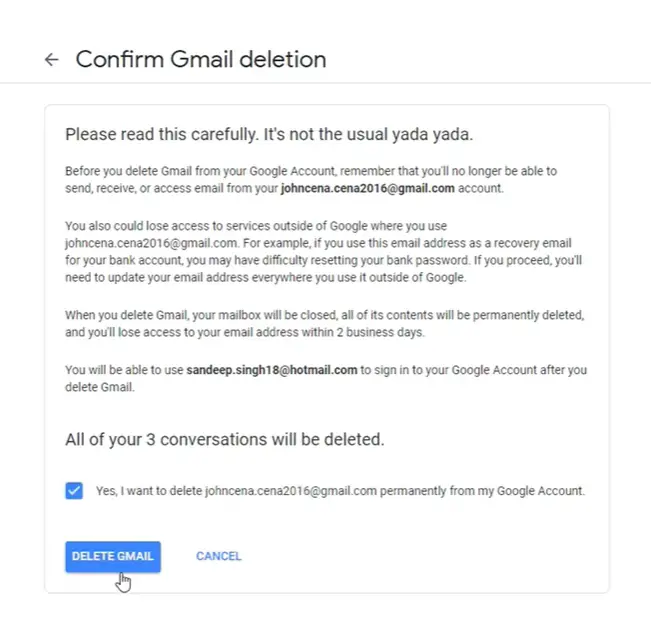 Finally, click on DONE. 
That's it! You have now successfully deleted your Gmail account. You will not be logged in everywhere with the new email address you provided. 
Note: When you delete your Gmail account permanently, you still get two days to reactive it back. After that, you will never be able to reactive your Gmail account. 
Recover deleted Gmail Account
If you change your mind within two days and want to reactive your deleted Gmail account, you can do it. Here is how: 
1: Go to Gmail. 
2: Login using your new email address and password. Click on Agree on the new window. 
3: You will now get the option to add the deleted Gmail address to your Google account. 
4: Provide your phone number and click on Submit. 

5: Again, verify your account by providing your phone number.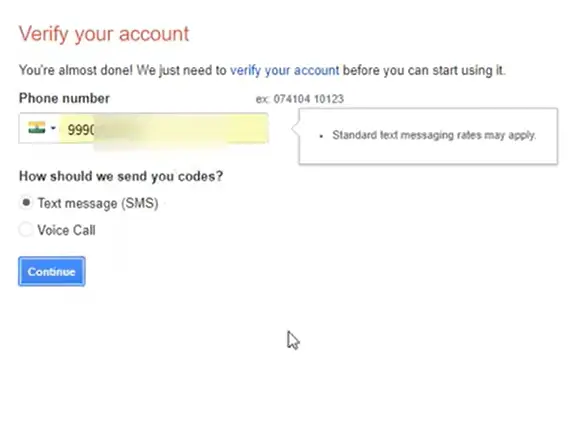 6: Enter the verification code. Click on Continue.  
That's it! This will reactive your old Gmail account. Make sure you do it within two days after deleting the account. 
Closing Phrase 
So that was all about how to delete your Gmail account permanently. Yes! You can do it without deleting your Google account, but it is still an extreme step. You should only do it if you can't control the spam emails you receive on your Gmail account. In case of any difficulty, feel free to reach out to us. 
Also, Read: 
Faqs
What happens when you delete your Gmail account?
If you decide to delete your Gmail account, then you will lose access to Gmail, Google Drive, and some other products. However, you can still access YouTube and related services using the alternate email provided during the process.
Can deleted Gmail be recovered?
Google offers you 2 days to reactivate the deleted account. Simply log in with the same email and password within 2 days.
How long does it take to delete a Gmail account permanently?
Generally, it takes two days before Google removes your account and associated data from the server. However, in some cases, it may take longer than 2 days.