ChatGPT is the newest cool tool in town. It can answer many queries on many topics in real time and is pretty fun. However, you need to open the ChatGPT chatbot to access it, and you might need to try different prompts. But what if you have ChatGPT extensions for Chrome to automate several things? Well, that should make it more functional and accessible. 
Today, we have curated a list of the top 5 extensions for ChatGPT for Chrome and other browsers. So let's dive right in. 
Top 5 Extensions for ChatGPT to Improve Productivity
These plugins will help you to automate queries, write paragraphs, email & other things. You can install them on all Chromium browsers like Google Chrome, Microsoft Edge, Brave & others.
1. WebChatGPT
We have the WebChatGPT browser extension. This is one of the most valuable extensions for ChatGPT. While ChatGPT can provide you with a lot of information, it's limited to 2021 data. So the information lapse can be a downside for some people using ChatGPT to look up the latest information. 
By integrating WebChatGPT, you enable ChatGPT to look up search results online. So you get relevant web results to whatever you ask. The bot displays the links and gives you compiled information from sources. To get more accurate information, you can add filters like region, date, etc. Overall, it is a must-have browser extension if you use ChatGPT to get your information. 
2. ChatGPT for Google 
One of the most significant issues with ChatGPT currently is that you have to open a dedicated tab for it. While it might seem like a minor issue to a regular user, people who use ChatGPT for research have many problems because they have to switch back and forth between ChatGPT and Google SERPs. This is where ChatGPT for Google comes in handy.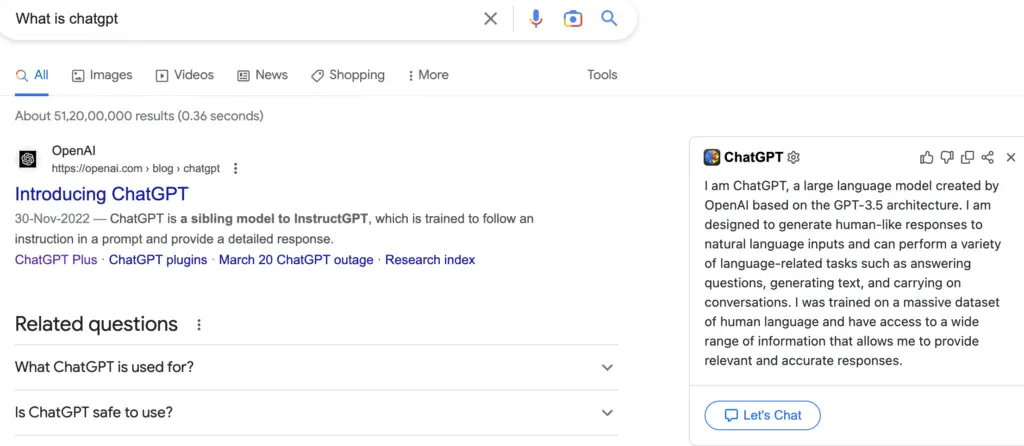 ChatGPT for Google browser extension does a fantastic job of bringing ChatGPT bot to search engines. So whenever you search for someone on Google, the extension shows ChatGPT's response alongside the search engine results.
The setup process for this extension is quite simple too. All you need to do is download this extension and log in to ChatGPT using the extension.
Now, whenever you search for something on Google or any other search engine, ChatGPT's response will be shown on the right side. As most of us type the same query on both search engines and ChatGPT, there isn't much left to do. So you can use this extension seamlessly. 
3. ChatGPT Writer
In our ChatGPT explanation guide, we discussed some of the biggest use of ChatGPT and how to use it to your advantage. A lot of people use ChatGPT for its text-generation abilities.
The AI chatbot can generate text quickly in a natural language. People widely use it to write emails, essays, poetry, articles, and whatnot. If you are also one of those users, then ChatGPT Writer will be an excellent browser extension for you.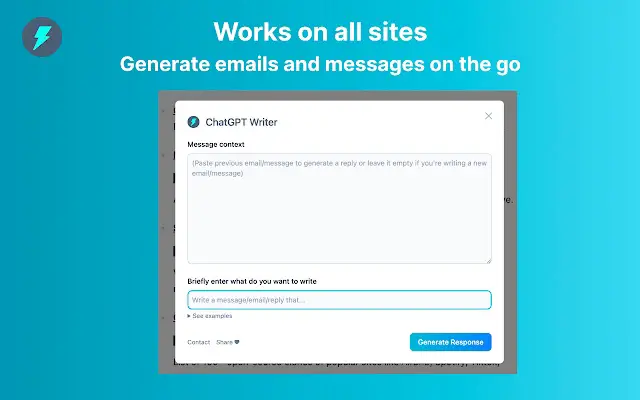 ChatGPT Writer is a browser extension that helps users write emails and messages on any website. You can use it as a standalone tool, and it only requires the user to log in to their OpenAI account.
Once logged in, the user can open the extension by clicking and providing context for the email or message they want to write. This context could include information about a previous conversation they are responding to.
The extension then quickly generates a response using the ChatGPT AI model. 
4. TweetGPT
As an AI language model, ChatGPT can understand natural language and give appropriate responses. That is one of the reasons why people are using AI chatbots. Its ability to reply with accurate and intellectual answers is a remarkable feature.
Many Twitter users use the tool to reply to or even write tweets on the latest topics. However, this can be a long process as you must paste the Tweet into the chatbot and then ask the chatbot to create a reply for it. Then you will have to paste the reply to Twitter again.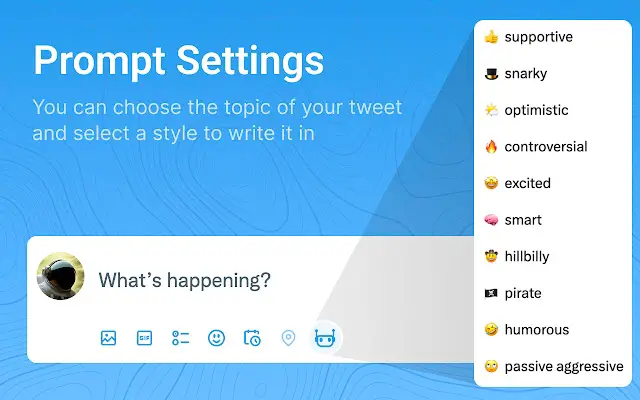 That is a lot of steps, and tweetGPT is a browser extension that automates it by integrating ChatGPT right into Twitter for people to use. tweetGPT is a browser extension that adds a robot icon to the "New Tweet" pop-up on Twitter.
Clicking on the robot icon allows users to choose from various moods for their posts or replies, including funny, snarky, optimistic, excited, smart, and hillbilly. Once a mood is selected, ChatGPT generates an autocompleted tweet for the user.
Its ability to add humor to tweets makes the tool so unique. 
5. YouTube Summary with ChatGPT
We all watch countless YouTube videos and sometimes watch them learn new topics. However, sometimes these videos are too long, and we just need a summary of them. Well, YouTube Summary with ChatGPT is the perfect tool for that.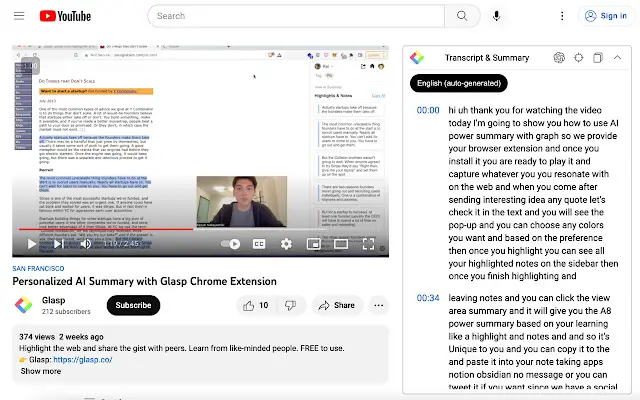 YouTube Summary is a browser extension created by Glasp that provides a quick summary of YouTube videos using ChatGPT AI technology.
After installing the extension and logging in, a YouTube summary box appears next to any video played on the website. Clicking on the box opens the video transcript, but the extension's unique feature is the "View AI Summary" functionality.
This opens a new tab with ChatGPT, where the entire video transcript gets pasted, and a command gets executed to provide a quick summary.
The level of accuracy depends on the AI chatbot, but this extension works well for most videos with clear audio. Overall, this extension can save a lot of time for users who spend countless hours on YouTube searching for summaries. 
Install YouTube Summary with ChatGPT
Other Amazing ChatGPT Extensions
1. AIPRM – It provides you with curated prompts templates to write articles, SEO-optimized blogs, and other marketing-related content.
2. Merlin – It offers ChatGPT response on any website. You can get the best result on Google, YouTube, Gmail, and millions of websites.
3. ChatGPT Slider – It adds a ChatGPT sidebar to your browser; this way, you can easily access ChatGPT without visiting its website.
Closing Thoughts 
These are the best extensions for ChatGPT for the Chrome browser. Some of these extensions are also available for other browsers. ChatGPT is a potent tool on its own, and by using these extensions, you can get the best out of it.
FAQs
Q: Is there an official Chrome extension for ChatGPT?
A: No, ChatGPT does not have a Google Chrome extension as of now.
Q: Is it safe to provide my login details to a third-party browser extension?
A: You should only provide your login to your OpenAI account on a trusted site or extension.
Q: What do these extensions for ChatGPT do?
A: These extensions will increase the utility of ChatGPT and make it more accurate.