In my last post about Bitcoin, I mentioned important tips to buy Bitcoin and Altcoins and why you shouldn't be panic in these dips.
I used to buy all my Bitcoins from ZebPay, thought of moving to another Bitcoin Trading App since ZebPay price is always higher in Indian Rupees compare to the global USD price.
Also, ZebPay has a high difference in Buy and Selling price and the trading fee is a bit of pain too.
And moving to another BitCoin Trading app gonna take time. Since most of the trading exchanges halted the new registration, even if the registration opens they gonna take 1-2 weeks to verify e-KYC documents.
While looking for another Bitcoin Trading app in India I came to know about the new yet very promising trading app named BitBns, BitBns is another real-time Bitcoin trading app with an approach of faster fund transfer and reasonable Bitcoin and altcoin price in Indian rupees.
BitBns Review – Get Started Within A Day
In this BitBns Review post, you will find the features and the strong reason to try this app for your upcoming bitcoin trading.
If you are fascinated by buying and selling cryptocurrencies, then you would definitely like to trade cryptocurrencies on the move. These days, many people prefer to have a mobile app for exchanging and trading cryptocurrencies.
This is a lot easier way than sticking onto your chair for hours together.  
There are a plethora of crypto trading apps available on the Google play store, but if you are specifically looking for a reliable and secure app that can be your best bitcoin wallet too, then you won't mind giving Bitbns's trading app, a try.
This app is tested and is worth the time spending on listing down its features here. Let's have a look.
Overview of Bitbns – Is it the best bitcoin trading App?
Bitbns is one of the fastest-growing crypto trading platforms in India.
And looking at its growing popularity, it won't take too long for the company to surpass the popularity of other top-ranking crypto exchanges.
The newly launched crypto platform, Bitbns has come up with a fully functional mobile app for Android users that is now available for download at the Google play store for free.
BitBns is also planning to launch a version for Apple users very soon.
The reason that Bitbns's crypto trading app is hovering at the top of the list is its flexibility to trade multiple cryptocurrencies like-
Bitcoin, Ripple, Ethereum, Stellar, and Neo.
Since the inception of Bitbns, they were only trading Bitcoin, but now they have added many new cryptocurrencies to their platform, which has made it a top-ranking app in the market.
Another cool feature is that if you are a heavy trader, you should take advantage of the real-time trading with this app. You can monitor and track your crypto portfolio using this app.
In addition to this, the company keeps hosting many flash sales. So, if you are willing to buy some BTC or XRP at discounted rates, then you can simply download this app and start making profits instantly.
Key Features of the BitBns Bitcoin Trading App
There are many other features of this app, which definitely makes it one of the best bitcoin trading apps in the Indian market.
Here are the key features I noticed while exploring this App.
Easy Registration Process: With this app, registration is made an effortless process. Users can easily upload their KYC documents for registering and the verification will happen in a flash, without a hitch.
Real-time Trading: Users can trade the different cryptocurrencies, Bitcoin, Ripple Ethereum, Stellar, NEO, Doge, Cardano, and many other coins using this new app.
Monitoring Portfolio: Monitoring and tracking the crypto portfolio is very uncomplicated with this app and can be done by checking the live rate of cryptocurrencies.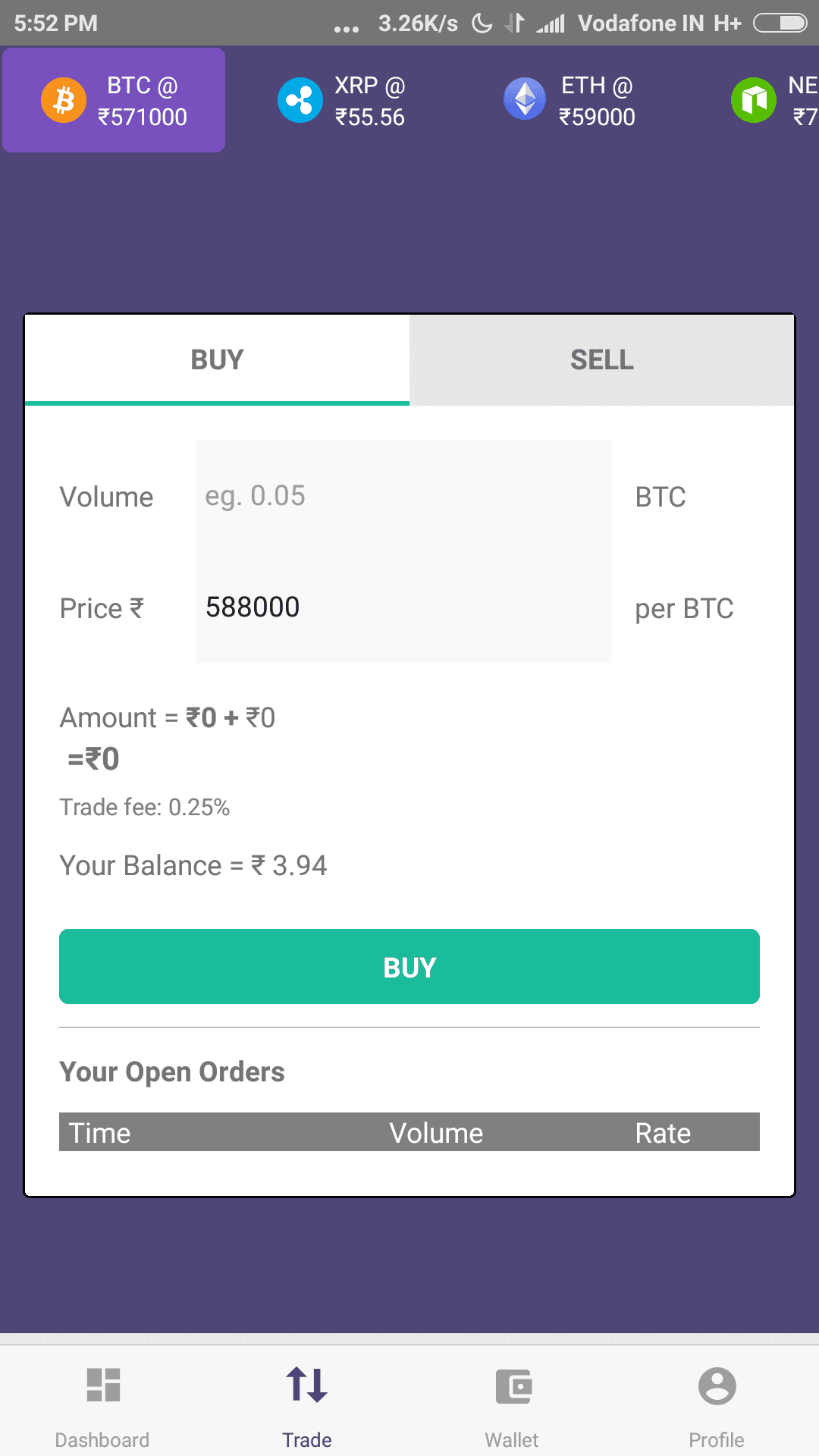 Wallet: Users can store, deposit, and withdraw the cryptocurrency conveniently using this app.
[Update]Suspended – Bank Account: Once the account is linked with the bank account, withdrawing and depositing INR can be done easily using UPI apps like Paytm, BHIM, PhonePe, and Tez.
Additionally, the app also supports NEFT, IMPS, and RTGS for INR deposit. If your bank account is linked, withdrawal can be done instantly.
[These options has been suspended after RBI instructed banks to withdraw business with all Indian cryptocurrency exchanges]
[UPDATE]
After the Finance minister of India announced that "Cryptocurrency is not a legal tender in India" The downfall of the Indian crypto market started.
Reserve Bank of India (RBI) has instructed all the banks to stop any further payment to and by crypto exchanges all Indian crypto exchanges has to remove the payment option from their platform.
New Update – The Ban has lifted and you are allowed to use available payment methods to purchase digital currencies.
Now you can make any payment to any crypto exchange via your bank account or third-party payment processors like UPI, PayTm, Tez etc.
BitBns also has re-added the payment option, along with peer-to-peer payment.
Payment Via Bank
You need to add and verify your bank details with BitBns to make any deposit. Also, you cannot use a different bank account to withdraw money from the exchange.
The process is simple, add your bank account and provide asked details to get started with BitBns, it may take few days to complete the process.
Peer to peer Payment on BitBns
Since you won't be able to make payment via your bank account, Bitbns has created a peer-to-peer payment option where you would be able to deposit money via VOUCHER, Peer to Peer Bank Transfer, USDT- Bank Transfer, and SELECT option(For bitbns select customers only).
Voucher Payment – Right now they are accepting payments via BidforX vouchers ut planning to add Flipkart and Amazon vouchers as well.
Bank Transfer Peer to Peer
You can add money to your wallet by transferring money to the users who want to withdraw the money from their wallet. A person lists the amount they want to withdraw on the platform.
When you want to deposit it will match the amount with the peer who wants to withdraw the money and you will get up to 1 hour to transfer the money to that person by IMPS or UPI payment options.
You have to submit the payment reference number to the system after that receiver will confirm the transaction and you will get the INR in your wallet.
You can deposit and withdraw the money in multiple of 1000 only. You will also get the TIP for INR deposit by the peers.
Any conflict between peers will be handled by BitBns team.
USDT Bank Transfer
This is similar to the above payment option but instead of Indian rupees, you will exchange USDT at a given price rate.
BitBns SELECT 
SELECT customers can instantly deposit the amount above 1 Lakh rupees.
The Bitbns trading app is not only for trading and exchanging cryptocurrencies, but it is a very secure Bitcoin wallet as well. Its dynamic platform that allows multiple currency trading is indeed a tough competition in the Indian crypto market.
Final Verdict
Trading Bitcoin and other altcoins became tough in India after RBI banned the exchanges to provide payment methods. Most of the exchanges went out of business including the established exchange of one-time ZebPay.
But good thing is that ban is lifted and everything is working as usual now.
Although there are some Bitcoin trading apps available for Indian users most of them are not accepting new users, their verification process is very slow, and forget about the support you have to wait days in order to receive an answer from the support team.
Even if other exchanges may allow INR deposit by other methods you may have to wait to get your fund credit in your wallet or to the bank account.
Looking at these features and benefits, BitBns is an awesome platform for Indian users, it also enables faster user registration and e-KYC approval, faster fund transfer, flexibility to trade many other altcoins on a single platform, and better support.
Existing Bitcoin traders also can give it a try to save on a high exchange rate and trading fee.
Also Read –