Investing in stocks is always a risky business.
For someone desiring to invest in stocks or mutual funds for the first time, this can be daunting as hell.
Hence, relying on a professional for help is inevitable. But there are too many brokers who charge a higher commission and that's why you must be familiar with the tools that they use.
7 Best Investment Apps
Here are some of the best investment apps that you can use to predict returns on your investments.
1. SIP Planner
An easily understood Android app that is used mostly by bankers in India to calculate your ROI. SIP Planner offers multiple advantages even though it is free and does not bug you to upgrade or buy add-ons.
A few interesting features that make SIP Planner #1 on this list are as follows:
SIP + Loan Calculator- receive insights on the investment opportunities before signing up to borrow a loan.
SIP Returns Calculator- Shows you returns on the investments you make in SIP.
Analyze SIP- By entering a few essential details such as monthly investment, the current value of investment and SIP start date, the application will give you a complete analysis of SIP.
Quick SIP Calculator- Calculate the expected maturity amount.
SIP Goal Planner- Tells you how much investment you should be making to achieve the desired return.
Other forms of planners- education, marriage, home, car, retirement, net banking, bank balance, top-ranking mutual funds by CRISIL & many other features.
2. myCAMS
An easy way to purchase the trending mutual funds in India is via myCAMS. Winner of the Best Financial App Award at GMASA for two consecutive years since 2015, myCAMS is co-owned by- NSESIC which is an investment corporation and a subsidiary of the National Stock Exchange, HDFC Group and Acsys Investments Pvt. Ltd.
A host of new features such as opening new portfolios, purchasing, redeeming, switching, setting up SIP, besides staying updated on your investments across all mutual funds including Aditya Birla Sunlife, HDFC, HSBC, ICICI Prudential, Kotak, L&T, SBI, etc.
You also rid yourself of remembering multiple PINs and passwords to the individual accounts created at various mutual fund websites. MyCAMS is your one-stop shop for all investments.
NFO Schemes- purchase NFO schemes through the myCAMS app.
Aadhaar based eKYC- complete eKYC with Aadhar card using this mobile application.
myCAMS iSIP- use net banking and Common One Time Mandate (OTM) to start a new SIP via myCAMS.
myWatchList- Keep track of multiple SIPs under one application using 'myWatchList' that tracks the performance & shows it on the main menu whenever you log in.
Security- Your information remains utmost secure since nothing gets saved onto the device or the SIM card.
3. Piggy
Piggy is an India-based highly rated direct mutual fund app that gives you 1.5% more returns than anybody else on the market. Their direct plans are free from all commissions which maximize your returns.
You also get recommendations within the app from ex-investment bankers to invest in the Flexible SIPs. You may also switch existing Regular funds to Direct plans.
The entire investment process is carried out in 3 simple steps-
Provide details for KYC.
Select funds, then invest and transfer funds online.
Funds from all Major AMCs are accepted and you gain more flexibility with Flexible SIPs than Fixed Deposits or normal SIPs. You can also save taxes through mutual fund ELSS.
Although this application is designed for even a non-experienced or first-time investor, you may run into some technicalities, which is why top bankers in India make use of Piggy excessively to explain to you in detail how will the investment going to turn out.
4. SigFig Wealth Management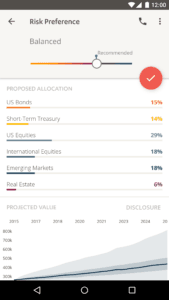 SigFig is yet another investment portal that offers its users to create customized portfolios.
Although this app is mainly used in the United States & Canada, you might find some bankers making use of this application when you choose to invest overseas.
This app allocates managers appointed by SigFig to manage investments on your behalf at only a 0.25% annual rate which includes direct access to the investment adviser. Investment between $2,000 and $10,000 gets you a free portfolio.
SigFig allows the user to track portfolios and helps monitor investments. It also makes it easy to access portfolio analysis, reporting dashboards, and live sync of investment accounts.
It is one of the best investing apps for beginners, which is why many bankers prefer to use it to ease the intricate process of investing in stocks.
5. Motif
It is a unique money manager that invests thematically by way of Motifs.
Each motif is designed specifically to represent an investment concept suited differently to each investor. You can invest in up to 30 stocks and other ETFs for the price of $9.95 or trade individually, on a per stock or per ETC transaction basis for $4.95.
To make this investment process easier, over 150 professionally created motifs are available but if your investment advisor, such as a banker, wants to create one for you, that is also possible. Although there are over 1,80,000 motifs created by other investors that you can invest into.
6. Acorns
A Robo-advisor that offers micro-investing by gathering loose change or 'leftover' cash into an investment account. Using a simple and logical method, all your online purchases are rounded up to the nearest whole dollar amount and the difference is then put into your Acorns investment account.
For this to work at the most optimum levels, you need to sync your checking account with the app and all your purchases will be monitored. So, if you purchase a Big Mac with fries and a drink costing you $8.64, then Acorns will round that up to $9 and use the difference of $0.36 for investment.
Although Acorns does seem pretty easy to use even by college students (who receive a free account for a period of four years with a valid '.edu' email address), those investing a larger sum might need to counsel a professional banker about the specific nature of investments.
This is a genius app that is heavily used by bankers in the USA and Canada.
7. Fidelity
Simply put, Fidelity is the best investment app on the market with over 70 years of financial expertise coming from the bigwigs in the trade and commerce industry include mutual funds.
Not only you can review news about investments but also trade, manage funds, deposit cheques, and even pay bills. It is a multi-utility app that keeps you posted on the latest developments in the stock markets. Moreover, Fidelity is designed to manage your expenses and report to you of the same.
You can prepare a list of your investments and observe the trend in a grid view or as a heat map.
The field options would list – 52-week range, P/E, EPS, earnings date, div date, div ex-date, div $ and div yield Markets + Research.
You can also gain further insights on international markets and watch Live Bloomberg streaming videos.
These are considered as best investment apps as per user's reviews, which app do you use for investment? Let me know in the comments.
Also Read-